There is an array of Latinx-owned beauty brands available to shop online and in-store, making it easy to show your support during ~and~ after Hispanic Heritage Month.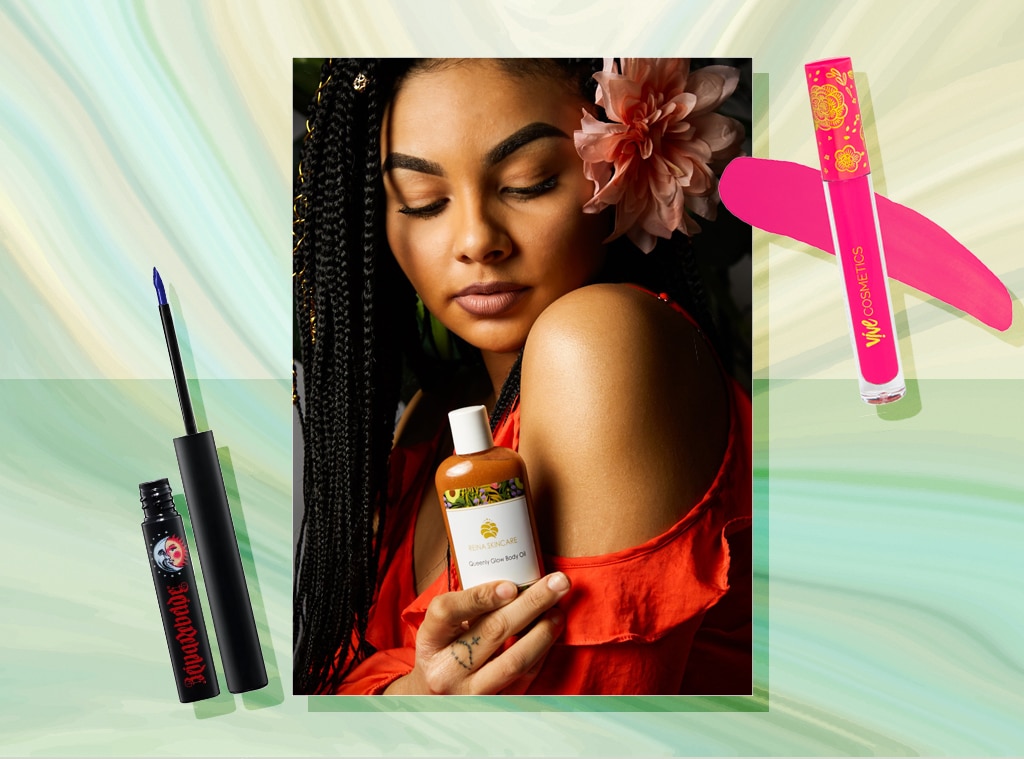 We love these products, and we hope you do too. E! has affiliate relationships, so we may get a small share of the revenue from your purchases. Items are sold by the retailer, not E!.
Hispanic Heritage Month (which has also been referred to as Latinx Heritage Month in recent years) is officially here. And it's time to celebrate with makeup and skincare, of course!
Luckily, there is an array of Latinx-owned beauty brands available to shop online and in-store, making it easy to show your support during and after the holiday.
Plus, many of these cosmetics companies were founded as a way to honor the diverse and vast culture of the Latinx community.
Case in point? Reina Rebelde was started by lawyer-turned-beauty mogul Regina Merson with her heritage and makeup needs in mind.
"Latinas are sophisticated, discerning and authentically rooted in their culture, and much of how beauty brands market to us doesn't talk to us in this way," she previously told Refinery29. "I wanted to create makeup that would honor, celebrate and give life to our many dualities with products full of provocative shades that deliver the boldness and passion we bring to the rituals of applying them."
Reina Rebelde isn't the only one to think this way. Vive Cosmetics, Reina Skincare and Sweet Street Cosmetics are just a few brands with a similar mindset.
Shop over 20 Latinx-owned beauty brands, below!
Qué Matte Liquid Lipstick in Chingona
Founded by Latina powerhouses Joanna Rosario and Leslie Valdivia, it's no wonder Vive Cosmetics' liquid lipsticks pack a major punch. Each formula is smudge-, transfer- and beso-proof—and with fun shade names like Chingona, Luchadora and Wepa, you'll most certainly want to pucker up.
Trending Stories
Vili Fualaau Details His Final Moments With Mary Kay Letourneau
Katy Perry & Orlando Bloom Seen for the First Time Since Daisy's Birth
DWTS Premiere Finally Reveals the Season 29 Pro Couples
Rebel Eye Definer Liquid in Chiflada
Swap out your black liquid liner for something vibrant like Reina Rebelde's latest creation. The fine point tip will allow for precision, while the audacious color will make sure all eyes are on you.
As founder Regina Merson described it, "I wanted to create makeup that would honor, celebrate and give life to our many dualities with products full of provocative shades that deliver the boldness and passion we bring to the rituals of applying them."
MIA Glow Skincare Essentials
Want to fine-tune your routine but don't know where to start? Mia Del Mar has you covered with its essentials kit, which includes a glycolic face wash, deeply nourishing moisturizer and silicone-free primer.
From Miami-inspired packaging to vibrant shadows and cheek palettes, the brand is providing playful and practical beauty for mamitas everywhere. "Latin beauties use makeup and skincare as a source of enjoyment and added value to their everyday lives," a message reads on its website. Amen to that!
Latte 2 Eyeshadow Palette
Café con leche, please! YouTube star Christen Dominique knows a thing or two about beauty, so it's no surprise she created her own brand full of goodies like the Latte 2 Eyeshadow Palette—which combines warm neutrals with pops of color and look-at-me shimmer—so you get everything you need in one palette.
Pair your shadow with the matching lip, Latte 2 Lip Gloss, and Ultra Hydrating Fine Mist for an effortlessly glam look.
Queenly Glow Body Oil
Say goodbye to dry and dehydrated skin because Reina Skincare knows the importance of hydration. From serums to body oils and face masks, each product is made with natural ingredients.
Plus, the founder realized her own beauty needs weren't being met, so she filled a void in the market. The website noted, "After suffering from acne for years, our founder, an Afro-Latina, wanted to offer products that were natural, effective and represented a part of her that is deeply rooted within her."
Digital Dust Duo Blush
All the buzz! Since 2012, Lora Arellano and Dana Boma have brought bright and bold makeup to the industry with Melt Cosmetics. And the brand's latest blush duo collection is proof. Best of all? You get two shades for the price of one.
And if you're obsessed with luminizers, Melt Cosmetics released a Día De Los Muertos-inspired collection last year. Swoon over its Amor Eterno Illuminacion Highlighter, which is embossed with a decorative skull-candy and roses.
Makeup Sponge
The Beautyblender makeup sponge is a best-seller for a reason. From the soft, pillowy texture to the egg-like shape, the tool blends makeup flawlessly.
But before the cosmetics company reached beauty shelves, creator Rea Ann Silva said, "actors were stealing my sponges" when she worked as a makeup artist on the first high-definition TV show. It was a hit back then, and it's a hit now.
Extreme Length Mascara + Lash Primer
Jessica Alba has been giving beauty lovers affordable makeup and skincare since 2015. The most exciting product from the brand's lineup, however, is the Extreme Length Mascara + Lash Primer.
Makeup artist Daniel Martin previously told E! News about the actress' trick, saying, "she blinks into the primer, which is white and dries down clear, and then she'll go in with mascara."
Spanglish Pressed Pigment Palette
For those days when you want that extra oomph, swipe on the Spanglish Pressed Pigment Palette. Featuring four eye-catching shimmers and four matching mattes (which makes it easy to use as transition shades), this product has it all.
Makeup artist Gabriela Trujillo previously told Hola that she started the brand as a way to "inspire others to learn new things, adapt, change, evolve, but never forget that there are beauty and inspiration in your very own roots."
Refresh & Detangle Spray
Searching for products to fill her curly hair needs, Julissa Prado decided to take matters into her own hands. Rizos Curls was born and offers a range of hair care products for "defined, bouncy, shiny, frizz-free, soft [and] voluminous curls."
Show your curls love with the Refresh & Detangle Spray, Pink Detangling Flexi Brush and rhinestone-studded Hair Pins.
Wing Queen Liquid Liner
Whether you're an eyeliner pro or a beginner, the Wing Queen Liquid Liner is designed to be fuss-free with its fine tip applicator and slender packaging.
Plus, founders Natalia Durazo and LaLa Romero, made sure it was ultra-pigmented and long-wearing, claiming it's "d–k-proof, chillona-proof and smudge-proof."
Forever Flawless Beauty Oil
Founder Farah Vargas struck gold with the creation of her Forever Flawless Beauty Oil. In 2018, she told Latina magazine it's the one product that consistently sells out—and for good reason, too.
"It's fast-absorbing, nourishing, will balance your skin and brighten dark spots," she shared. "Some of its superstar ingredients include Grapeseed Oil, Marula Oil, Sunflower Seed Oil and Neroli Oil. It's truly a skin savior in a bottle."
Forbidden Growth Bundle
Give your hair some extra T.L.C with Bomba Curls' Forbidden Growth Bundle. Aside from its 5-Star status, founder Lulu Cordero brought her brand to life after "suffering from severe traction alopecia."
According to the website, Cordero "wanted to share the tightly kept Dominican beauty secrets used by generations of women to naturally boost growth and maintain fullness with the world."
Cor-de-Rosa Eye Shadow Palette
Sigma Beauty is full of innovation and fun. Power couple Dr. Simone Xavier and Rene Xavier Filho—a scientist and an engineer—are the masterminds behind the brand's durable brushes, cult-favorite cleaners and beauty products like the Cor-de-Rosa Eye Shadow Palette.
Soft Pinch Liquid Blush
Selena Gomez knocked it out of the park with the recent launch of Rare Beauty.
Along with the brand's mousse-like liquid lipsticks, 48 foundation shades and refreshing face mist, the liquid blushes are the true stars. Available in eight shades and two finishes, each item is rich in color, highly-pigmented and long-lasting.
Matte Liquid Lipstick in Bon Bon
Light up any room you walk into when you throw on Luna Magic's makeup. We're talking Matte Liquid Lipstick in Bon Bon and its Uno Eyeshadow Palette. 
Created by Afro-Latina and Dominican-American sisters Mabel and Shaira Frías, Luna Magic is all about marching to the beat of your own drum. According to the site, the siblings "created a vibrant brand that celebrates their mutual love for their multicultural heritage, Latin culture and music—in living color."
The Hydrator Curl Cream
Quench your hair's thirst with the Hydrator Curl Cream by Botanika Beauty. Plus, know that each product is made with self-care in mind.
"Inspired by the botánica stores found across densely populated Latinx communities, Botánika Beauty was created to meet a social niche and link us to the beauty rituals of our past," a message reads on the site. "Our brand is more than just a haircare line; it's a collective that celebrates our beauty traditions with today's modern approach."
Caliente Hot + Spicy Summer Eye Palette
For those days when you want to spice up your routine with bold and bright eyeshadow, pick up the Caliente Hot + Spicy Summer Eye Palette by Artist Couture.
Complete your look with the brand's Silk Cream Lipstick in Caliente, which comes in a fiery red. Founder Angel Merino said it best, "Turn up the glam and make it HOT!"
Talk to the Hand Bundle
Nailed it! Influencer Kathleen Lights could've easily launched a line full of lipsticks, bronzers and more. Instead, she's giving beauty lovers lavish, lively and healthy nails with Lights Lacquer.
Give your claws some attention and love with the brand's Talk to the Hand Bundle, which is the perfect kit to any manicure.
Lucy's Love That Readhead Lipstick
When beauty and history collide, you get Bésame Cosmetics. Makeup historian Gabriela Hernandez founded the brand with glam and vintage in mind.
Find historically-inspired products with a modern twist like the Cake Mascara and Cream Rouges. Plus, shop Hollywood-themed collections like the I Love Lucy line.
Azteca Eyes Eyeshadow Palette
An eyeshadow palette that offers versatility, high-pigment and an ode to the culture? Yes, please. The brand's Azteca Eyes Palette offers six earthy tones, in matte, foil and shimmer finishes.
Social media star and founder Araceli created her eponymous line as a way to offer "wallet-friendly" and "easy-to-use" products that packed a punch. "Creating Araceli Beauty is my way of sharing two things I love—my culture and love for makeup," she explained on her site.
Can't get enough of beauty? Find out the new goodies that launched in September. Plus, stay in-the-know as Ulta's 21 Days of Beauty continues. And if you'd like deals delivered directly to your inbox, sign up for the Shop With E! Newsletter!
Source: Read Full Article