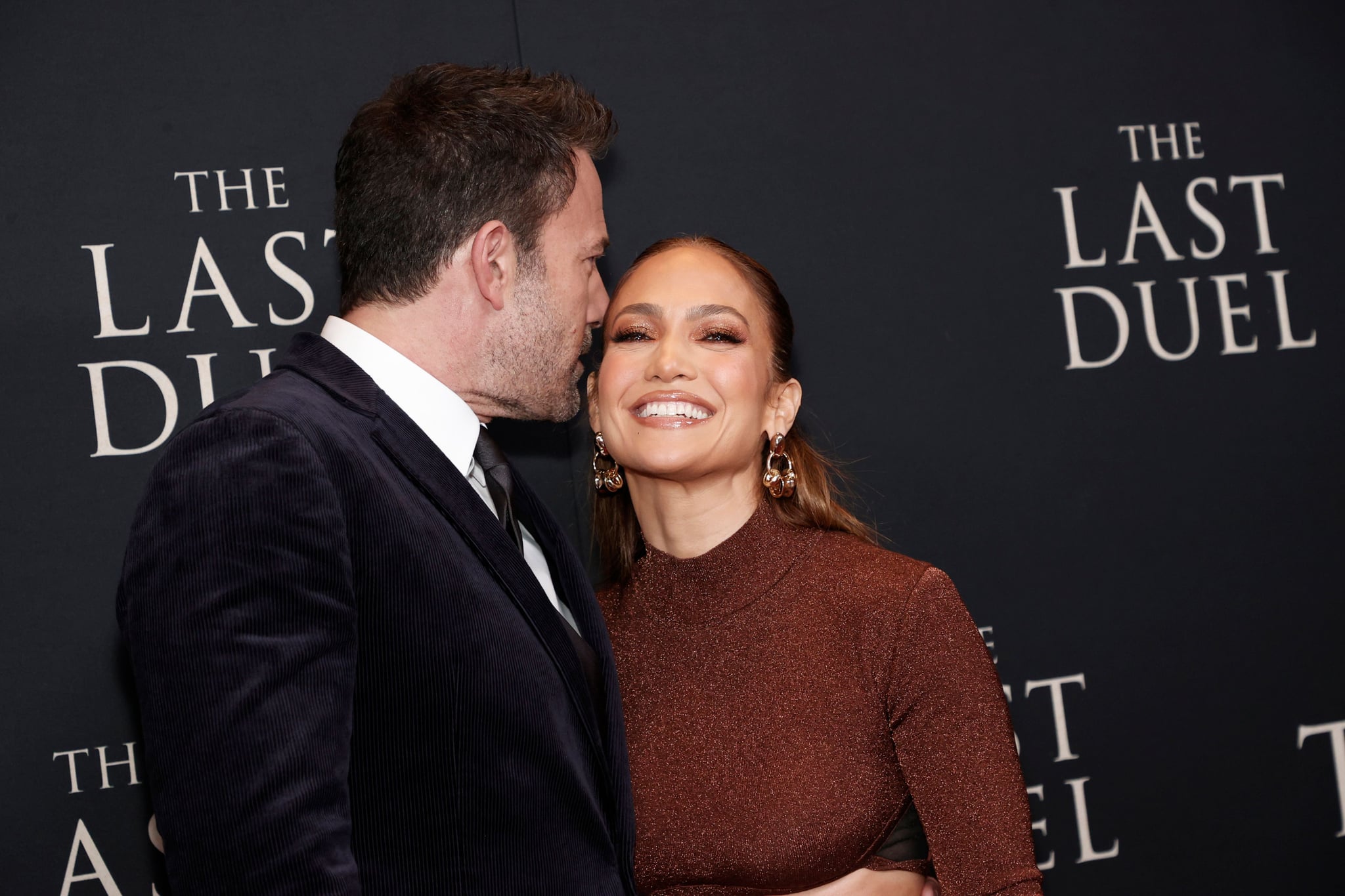 Jennifer Lopez is showing her love for Ben Affleck in all ways — including her manicure. On May 31, Lopez's longtime manicurist Tom Bachik shared a close-up photo of the superstar's latest design, and it includes a sweet shoutout to her fiancé. The light-nude oval-shaped manicure, which was painted with the GelBottle's "Dune" shade, has a gold heart on her middle and pinky fingers. On her ring finger, Lopez has "J x B" written in an uppercase gothic font as a loving nod to Affleck. "If you know. . . then you know 🏹 Jen and Ben forever," Bachik captioned the photo.
The gold design atop the nude shade looked dreamy with Lopez's massive green engagement ring. After rekindling their romance in May 2021, Affleck proposed to Lopez in April with the stunning ring that had a symbolic meaning to their past. "I always say the color green is my lucky color. Maybe you can remember a certain green dress," she told People at the time. "I've realized there are many moments in my life where amazing things happened when I was wearing green."
While some people jokingly "become a lefty" after getting engaged in an effort to show off their new jewelry, Lopez's latest manicure naturally highlights all aspects of her ring, and the shoutout to Affleck is a romantic cherry on top. Her manicures have always brought a bit of glam to her timeless style, as she and Bachik went for a double french manicure at the iHeartRadio Music Awards, they recently did a nude french manicure with rhinestone embellishments, and she even dabbled in the milk-bath manicure trend. See Lopez's newest style with a nail-art tribute to her fiancé below.
Source: Read Full Article