The following article includes references to sexual misconduct.
Joe Rogan began his comedy career in Boston back in the late 1980s, eventually heading to Hollywood. After landing a role in a short-lived TV series, Rogan caught his big break when he was cast as electrician Joe Garelli on NBC sitcom "NewsRadio," which ran from 1995 until 1999. He followed that up with a left turn into reality TV, hosting NBC's "Fear Factor."
Rogan then took another unexpected career twist when he became a commentator for UFC fights, despite having "no aspirations to get into sports broadcasting," as he told Sports Illustrated. Then, in 2009, he launched his own podcast, "The Joe Rogan Experience," which became his most successful project yet. By early 2015, reported Inquisitr, Rogan's podcast was being downloaded 11 million times per month; by October of that same year, the number had grown to 16 million. By 2019, Rogan said on an episode of "The Aubrey Marcus Podcast," "The Joe Rogan Experience" was being downloaded a staggering 190 million times each month. 
A big part of that popularity has come from his unvarnished opinions and unabashed refusal to hew to political correctness. As a result, the comedian has become embroiled in controversy on numerous occasions. Read on to delve into Joe Rogan's most controversial moments. 
Joe Rogan called out fellow comics for thievery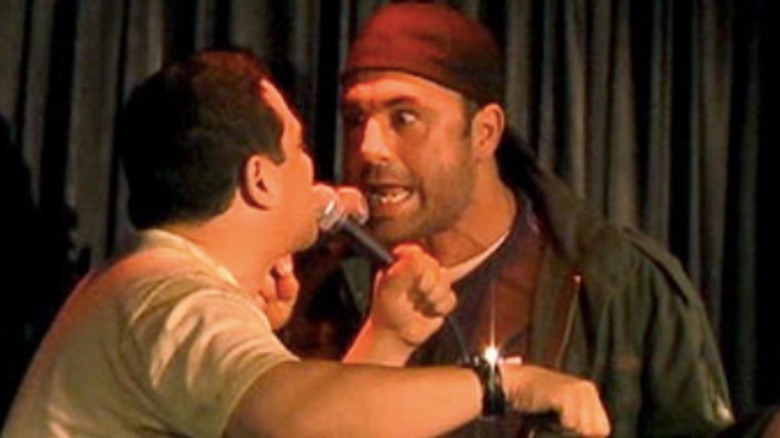 Back in 2005, comic Carlos Mencia was a rising star on the comedy scene, thanks to his Comedy Central sketch series "Mind of Mencia." However, his career took a huge hit when Joe Rogan wrote a blog post titled "Carlos Mencia is a weak minded joke thief," detailing his allegations that Mencia frequently and consistently took other comics' material and passed it off as his own. The animosity between the two comedians came to a head in 2007, the Times Herald-Record reported, when Rogan confronted Mencia on stage at Los Angeles comedy club The Comedy Store to accuse Mencia of regularly ripping off other comics' work. After Rogan introduced Mencia as "Menstealia," the two had an angry, profanity-laced exchange in front of the club's patrons. Years later, Mencia said on an episode of "The Checkitow Podcast" that he has no interest in going on Rogan's podcast to hash things out. 
Also in 2007, Rogan accused Dane Cook of comedy "plagiarism," telling TV Guide that the "Employee of the Month" actor was "not a very good writer." And in an interview with The Dallas Morning News, Rogan admitted he was "compelled" to call out comics like Cook, accusing him of being "guilty of stealing material." In 2015, Cook went on "The Joe Rogan Experience."
Years later, Rogan addressed his rift with Mencia during a 2020 episode of his podcast. "I don't have any hate for that dude," Rogan said. "And I hope he's doing great, I really do."
Joe Rogan was busted for using racist language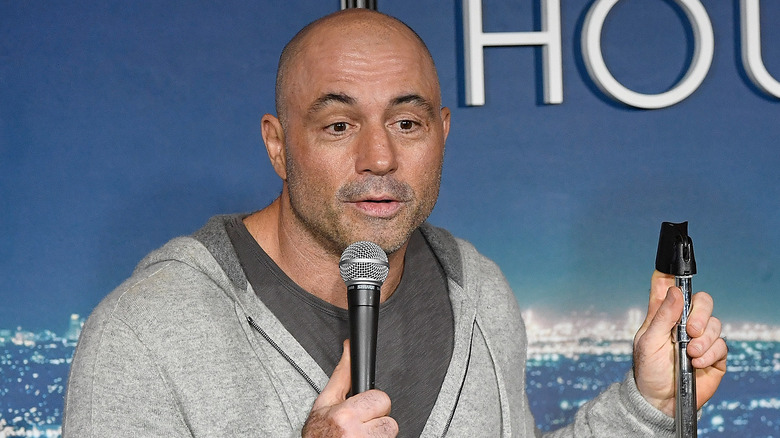 Joe Rogan was coasting on the success of his wildly successful podcast when he issued his endorsement for Vermont Senator Bernie Sanders, supporting his ultimately failed quest to become the Democratic candidate for president in 2020. Sanders himself tweeted a video of Rogan offering his stamp of approval.
However, Rogan's support of Sander inadvertently unleashed a wave of controversy when a Twitter user posted a video that compiled footage of Rogan uttering the N-word numerous times in various episodes of "The Joe Rogan Experience" from over the years. To make matters worse, reported Mediaite, another tweet (from an account that's since been suspended) featured footage of Rogan making a racist comparison between a Black neighborhood and "Planet of the Apes."
Rogan responded in an episode of his podcast, declaring that "they're using me to make [Sanders] look bad." Addressing his use of the racist slur, Rogan defended himself. "It's not real racism, it's a joke," he insisted. "There's a difference."
Alex Jones and his theories made for a controversial podcast episode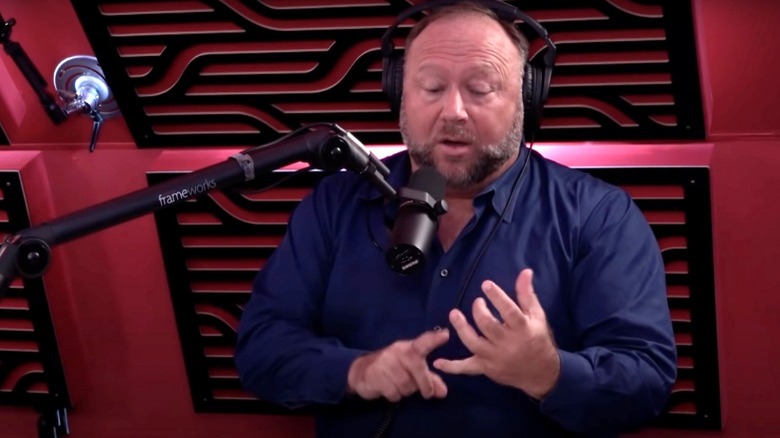 Since the launch of his podcast, Joe Rogan has welcomed numerous guests. Among them have been InfoWars' Alex Jones, a notorious conspiracy theorist who has declared that chemicals in the water supply "turn the friggin' frogs gay" and that the tragic Sandy Hook shooting was "completely fake," claiming the shooting was staged by "crisis actors," per CNBC. (As The Guardian reported, Jones' attempt to have the Supreme Court overturn a court decision after he lost a defamation lawsuit launched by parents of children who'd been murdered ultimately failed.)
During his 2020 visit to "The Joe Rogan Experience," Jones made a number of outlandish statements that Rogan let slide unchallenged, including his allegation that U.S. President Joe Biden uses Ukraine "as the money-laundering office." He also made various claims about climate change and said NASA astronaut Buzz Aldrin had appeared on his show (true) and informed him that "aliens created the pyramids" (not true). 
As The Independent reported, both Rogan and Jones trended on Twitter following the appearance. This, however, was primarily due to social media users criticizing Rogan for giving Jones — who's been banned from Facebook, Apple and YouTube — a platform from which to present disinformation. 
The debunked forest fire claim that landed Joe Rogan in hot water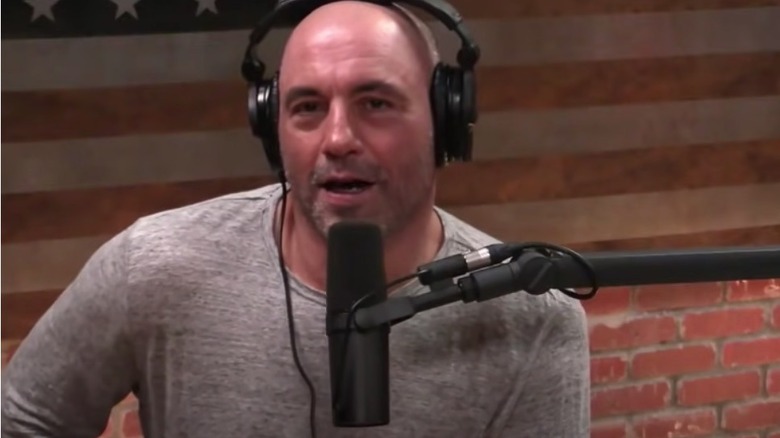 In a 2020 episode of his podcast, Joe Rogan delivered a shocking statement regarding forest fires that were blazing in Oregon at the time. "They've arrested left-wing people for lighting these forest fires," Rogan said, as reported by the Washington Post. "You know, air-quote, 'activists.' This is also something that's not widely being reported."
The reason it wasn't being widely reported, noted CNN, was because it wasn't true. In fact, CNN National Correspondent Miguel Marquez explained that sheriffs in the area of the fires and even the FBI have investigated the claims and come up with no evidence to substantiate them. As a result, said Marquez, authorities are "begging people to stop spreading false information."
Rogan ultimately issued a mea culpa on Twitter. "I was very irresponsible not looking into it before I repeated it," he wrote, explaining he'd read "one story about a guy getting arrested for lighting fires" that had actually occurred, but admitted similar stories he'd read turned out to be bogus. "I repeated it without looking into it and it was a really f**king stupid mistake that won't happen again," he added.
Joe Rogan has been called out for transphobia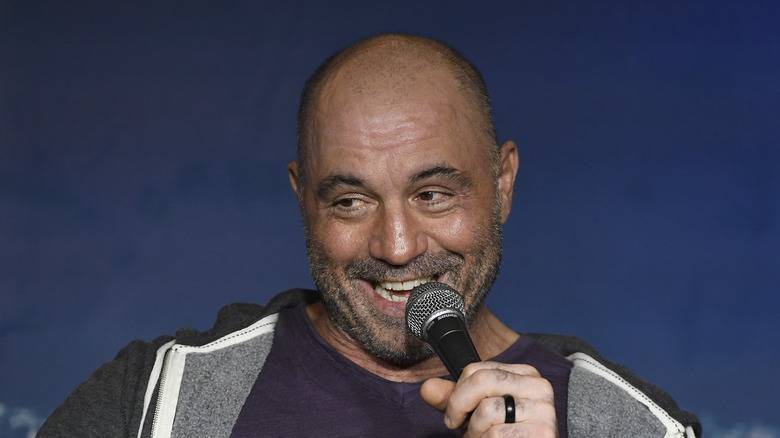 Over the years, Joe Rogan has made comments about transgender people that can generously be termed as problematic. For example, back in 2013 Rogan was hit with major backlash when he shared his views on trans MMA fighter Fallon Fox. "She calls herself a woman but… I tend to disagree," he said on "The Joe Rogan Experience" (via Fight Opinion). "And, uh, she, um… she used to be a man… You're a f**king man… You're a man without a d**k."
When Abigail Shrier appeared on the podcast (via Men's Health) to promote her book "Irreversible Damage: The Transgender Craze Seducing Our Daughters," the host declared, "They have this agenda, and this agenda is very ideologically driven that anyone who even thinks they might be trans should be trans, are trans, and the more trans people the better. The more kids that transition the better."
In another episode, Rogan offered his theory on Caitlyn Jenner's transition. "Maybe if you live with crazy b***hes long enough they f**king turn you into one," he said, referencing Kris Jenner and her daughters. Caitlyn was not amused, and offered a rebuke. "He's a homophobic, transphobic a**," she told TMZ.
Joe Rogan said cancel culture would silence all straight white men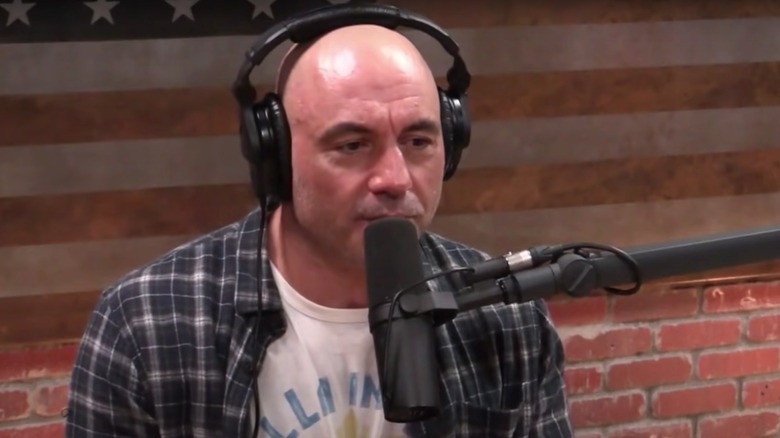 Joe Rogan took even further heat when he weighed in on so-called "woke culture" in a 2021 episode of "The Joe Rogan Experience." "You can never be woke enough, that's the problem … it will eventually get to straight white men are not allowed to talk, because it's your privilege to express yourself when other people of color have been silenced throughout history."
Rogan was hit with backlash, and clarified his controversial comments in a subsequent podcast episode. "And here's the thing about cancel culture and/or woke culture. And maybe I didn't express this the best the other day… The point is, it doesn't end," Rogan said. "People have this idea in their head that they're reaching for this new, better reality that's potentially available if they just do the right things and call out the right people and cancel the right people. But it's not. It's going to keep going. This was my point. It wasn't well expressed. If you keep going, it will come for you. No one is ever woke enough. It will never end."
A fellow comic's sexual harassment stories got a laugh out of Joe Rogan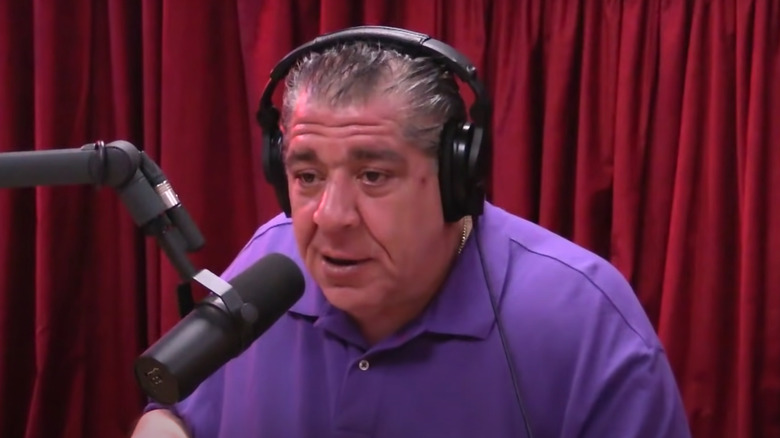 Veteran comedian Joey Diaz, a friend of Joe Rogan, has made several appearances on "The Joe Rogan Experience" over the years. One of those appearances resurfaced in June 2020, in which Diaz bragged about using his position of seniority at The Comedy Store to coerce female comics to give him sexual favors in exchange for stage time. Video of the appearance shared on Twitter (and since deleted) features Diaz telling Rogan about how he positioned himself as "the f**king gateway into Hollywood" for aspiring female comedians, reported The Independent. When Diaz admits he'd pulled that stunt with 20 women, Rogan laughed and clapped.
Diaz also boasts about "this little blonde open mic chick," telling Rogan he forced her to give him oral sex before he'd allow her to go on stage. She subsequently wrote him a letter, Diaz said while laughing, to tell him that he "broke" her.
The clip was greeted with outrage on social media, noted Showbiz Cheat Sheet. Among those to criticize Rogan was female comedian Chelsea Perreti, who retweeted the clip (later deleting it) and adding her own comment, writing, "It's not just Joey Diaz it's the f**king laughter." Diaz called anyone who took issue with the clip "c**ksniffers."
If you or anyone you know has been a victim of sexual assault, help is available. Visit the Rape, Abuse & Incest National Network website or contact RAINN's National Helpline at 1-800-656-HOPE (4673).
Joe Rogan apologized after advising young people to decline vaccinations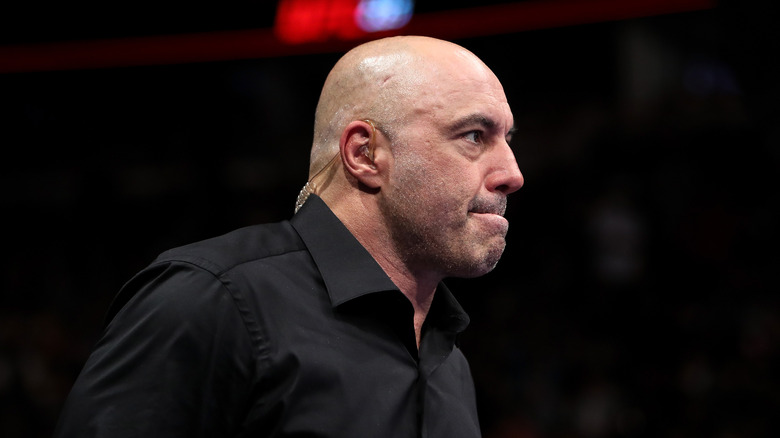 Joe Rogan has made some troublesome statements regarding COVID-19, such as the episode of "The Joe Rogan Experience" where he found himself on the receiving end of a hilarious rant from fellow comic Bill Burr for remarking that wearing a mask to guard against catching the virus was "for b***hes."
In April 2021, Rogan made a controversial remark about vaccinations during one of his podcast episodes. "But if you're, like, 21 years old and you say to me, 'Should I get vaccinated?' I'll go, 'No,'" he said (via Media Matters). "If you're a healthy person and you're exercising all the time and you're young and you're eating well, I don't think you need to worry about this." Rogan's remarks, in fact, earned a rebuke from Dr. Anthony Fauci, director of the U.S. National Institute of Allergy and Infectious Diseases. "That's incorrect," Fauci said of Rogan's statement during an appearance on "Today."
Rogan subsequently addressed the controversy on his podcast. "I'm not a doctor, I'm a f**king moron, and I'm a cage-fighting commentator who's a dirty standup comedian… I'm not a respected source of information — even for me," he said. 
Joe Rogan became a $100 million headache for Spotify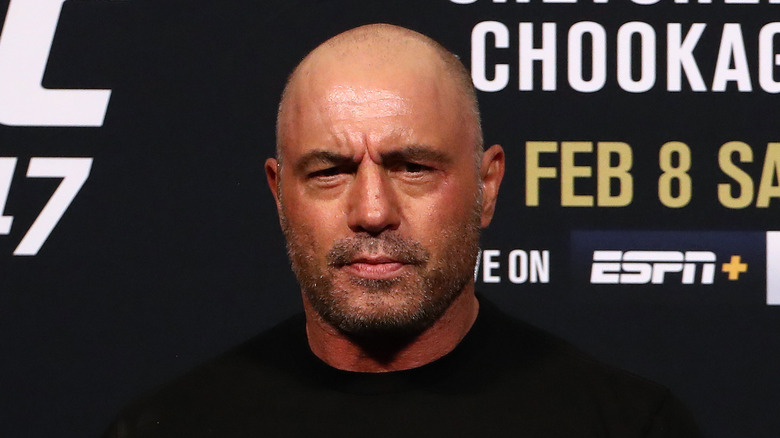 In May 2020, Spotify announced it had entered a partnership with Joe Rogan, with the music streaming service becoming the exclusive home of "The Joe Rogan Experience." According to the Wall Street Journal, the deal was worth in excess of $100 million. 
Some Spotify employees, however, bristled at the streamer's association with Rogan due to his controversial statements, particularly those regarding transgender people. Vice reported that Spotify CEO Daniel Ek said he'd had "a total of 10 meetings… with various groups and individuals to hear their respective concerns. And some of them want Rogan removed because of things he's said in the past." 
One episode in particular was deemed particularly troublesome, when Rogan expressed opinions deemed transphobic while speaking with author Abigail Shrier about her book "Irreversible Damage: The Transgender Craze Seducing Our Daughters." Ultimately, Vice reported, Ek chose Rogan over the concerns of his own employees. Insisting that particular episode had "been reviewed extensively," Ek declared, "The fact that we aren't changing our position doesn't mean we aren't listening. It just means we made a different judgment call."
Spotify quietly deleted Joe Rogan's most controversial episodes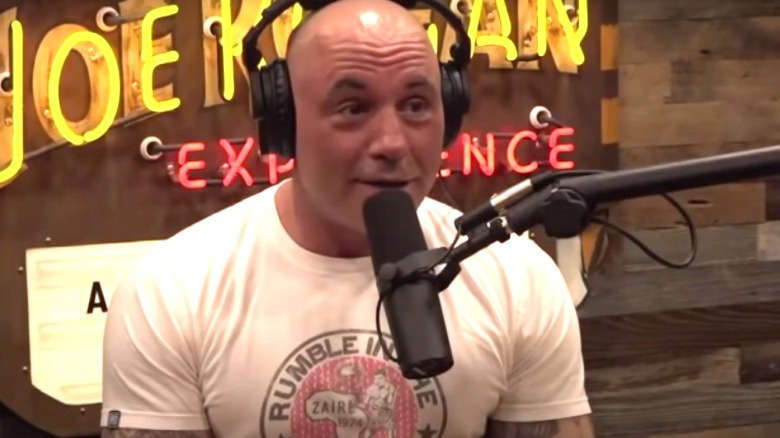 A few months after Spotify's announcement of its deal with Joe Rogan and the controversy that ensued, Variety reported that several episodes of "The Joe Rogan Experience" had mysteriously vanished from Spotify and were no longer available. Episodes that had gone missing included those featuring InfoWars' Alex Jones, Proud Boys founder Gavin McInnes, and several other far-right figures such as former Breitbart News editor Milo Yiannopoulos and Canadian white supremacist Stefan Molyneux (who, as Variety noted, had previously been kicked off YouTube for violating its regulations regarding hate speech). Also missing were episodes featuring comedian Chris D'Elia, who has been accused of sexual misconduct. (D'Elia has denied the allegations.)
Digital Music News subsequently revealed that 40 episodes had been removed from Spotify, a number that eventually grew to 42, and shared the full list of unavailable episodes. Rogan dismissively responded to Spotify's decision to remove those interviews during an episode of his podcast, reported Digital Music News. "There were a few episodes they didn't want on their platform, and I was like, 'Okay, I don't care,'" said Rogan. 
If you or anyone you know has been a victim of sexual assault, help is available. Visit the Rape, Abuse & Incest National Network website or contact RAINN's National Helpline at 1-800-656-HOPE (4673).
Source: Read Full Article