When responding to the criticism about her involvement with the migraine medication, the 'Keeping Up with the Kardashians' star stresses she just wants to 'help many out there who suffer in silence.'
AceShowbiz –Khloe Kardashian has had enough with hateful comments about her appearance. Finding a troll accusing her of having undergone "so much plastic surgery," the "Keeping Up with the Kardashians" star challenged the critic to block her instead of sending out negative remarks.
In a new Nurtec commercial featuring the 36-year-old reality star, there was one Twitter user who commented, "Does research indicate that the more plastic surgery someone has the more likely they are to suffer from migraines?" The individual further argued, "What kind of pharmaceutical company chooses someone who has had so much plastic surgery they look like an alien, as their spokesperson?"
Upon reading the comments, Khloe set aside time to fire back at the hater. "sorry you feel that way. You have every right to block/mute me. I am trying to help many out there who suffer in silence. I [sic] R completely entitled to your opinions. Just as I am mine. I don't think you should refer to yourself as a feminist if you are attacking a woman unprovoked," she pointed out.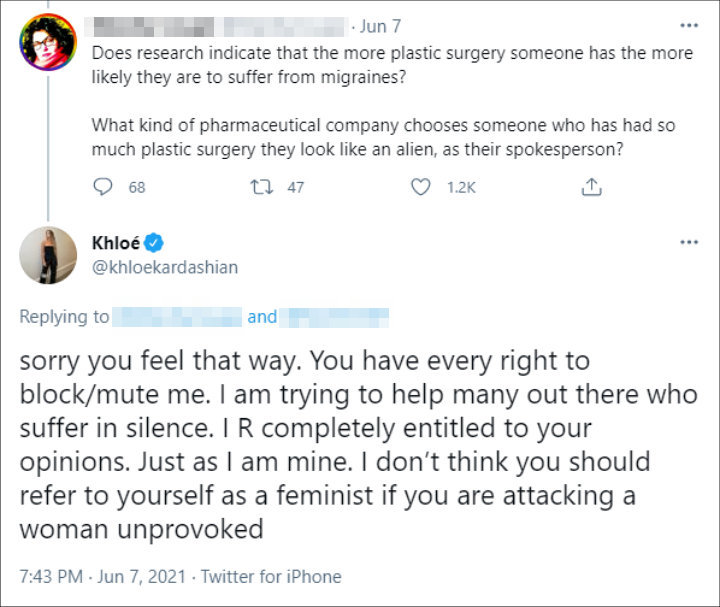 Khloe Kardashian fired back at a troll for calling her 'alien.'
In another tweet, the Good American founder clarified that she has been "suffering [from migraine] since the [6th] grade." She then added, "This is the first time ever that I found a medication that has consistently worked for me. I've tried everything. All I want to do is help even a handful of peps [sic]. So if others want to be mean… I'll take it as long as I can help some others."
Khloe later shared tips with fans about how to deal with negativity. "Mute/block anyone and everyone that you need to in order for you to be mentally strong. U R listening to people that would never say half of the things they say on the Internet to your face. And if it gets too heavy, take a social break. You R incredible and absolutely beautiful," she explained.
This came two months after Khloe's "private" and untouched photo went viral and was subsequently removed from sites across the internet. She, however, has already addressed the deletion of the picture via Instagram.
"The photo that was posted this week was beautiful," she said at that time. "But as someone who has struggled with body image her whole life, when someone takes a photo of you that isn't flattering in bad lighting or doesn't capture your body the way it is after working so hard to get it to this point – and then shares it to the world – you should have every right to ask for it not to be shared – no matter who you are."
Source: Read Full Article