A lot of people are losing their jobs right now due to the coronavirus pandemic—not only because people doing the right thing and staying home to be safe, and therefore not going out to spend money, but many businesses have also been ordered to close for public health and safety reasons. And it looks like one such business was Joanne's Trattoria in New York City, which is owned by Lady Gaga's father Joe Germanotta.
And also like some other businesses, Joe turned to crowdfunding to support his restaurant's employees. Yesterday, he tweeted out a link to a GoFundMe which aimed to raise $50,000 to cover his staff's wages, writing, "I'm doing the best I can but had to close Joanne for the month. Our staff needs some help financial [sic]. Any help for our employees would be appreciated."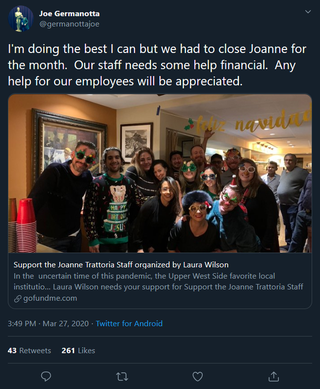 While of course it's great to support small, local businesses, people were understandably confused by Joe's tweet—after all, his daughter's net worth is reportedly $300 million, and if people do have money to give away to support those who are struggling right now, maybe it shouldn't be to a man who can simply ask his incredibly rich daughter for a loan.
Joe has since deleted the tweet and shut down his GoFundMe page, but Twitter is obviously still dragging him for asking for money in the first place:
Let me get this straight… Lady Gaga's dad owns a restaurant in NYC, and bc of the virus, his restaurant had to close temporarily. He's asking the public for donations to pay his employees, when his daughter is worth HUNDREDS OF MILLIONS? BRUH WHAT
Joe: Stef can you help out with costs?
Stefani: DAD! I'm busy enjoying my bath!
JOE: but honey I thought we could get your monsters to cover the costs, I already donated to the Trump campaign, so I can not swing 50K now.#ladygagawonthelp @yashar @MoRocca @NME #ladygaga pic.twitter.com/F98xkpW7Y1
@ladygaga pay your dad's staff. It's despicable he would ask others to do so.
Lady Gaga's dad is trying to start a gofundme for 50K to support the staff of his restaurant ……….I- 🤐🤐🤐
Come get your dad @ladygaga
Joe Germanotta asking for financial support when his daughter is worth $300+ million has me pic.twitter.com/2lLIIONYZf
Streaming Born This Way during my workout so that Joe Germanotta can pay his employees pic.twitter.com/bLcB7WnM3W
If you do have any money, time, or supplies that you can donate to the people fighting the coronavirus pandemic, check out some ways that you can help out here.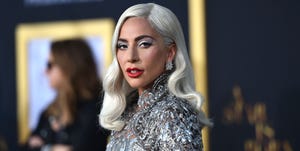 Source: Read Full Article