Deontay Wilder arrives for the weigh-in ahead of his fight with Tyson Fury
Anthony Joshua could still face Deontay Wilder in the future but the long-anticipated heavyweight contest will not take place ahead of an all-British showdown with Tyson Fury, according to promoter Eddie Hearn.
Joshua and Wilder's teams had previously been embroiled in frustrating public negotiations to agree a world title unification bout before the American instead opted to face Fury, succumbing to a stunning seventh-round knockout after their first breathtaking contest was ruled a draw.
Hearn is currently in negotiations with Fury's team to finalise contracts for a two-fight deal, with the aim of staging a record-breaking undisputed heavyweight bout this summer.
However, the promoter refused to rule out a future bout between Joshua and Wilder. "If it's the right fight for AJ, not stylistically, but if it's the right commercial fight," he said.
"Listen, Deontay Wilder knows he turned down the deal of a lifetime to fight Anthony Joshua, but he made his bed and respect to him. I want to see him back in the ring.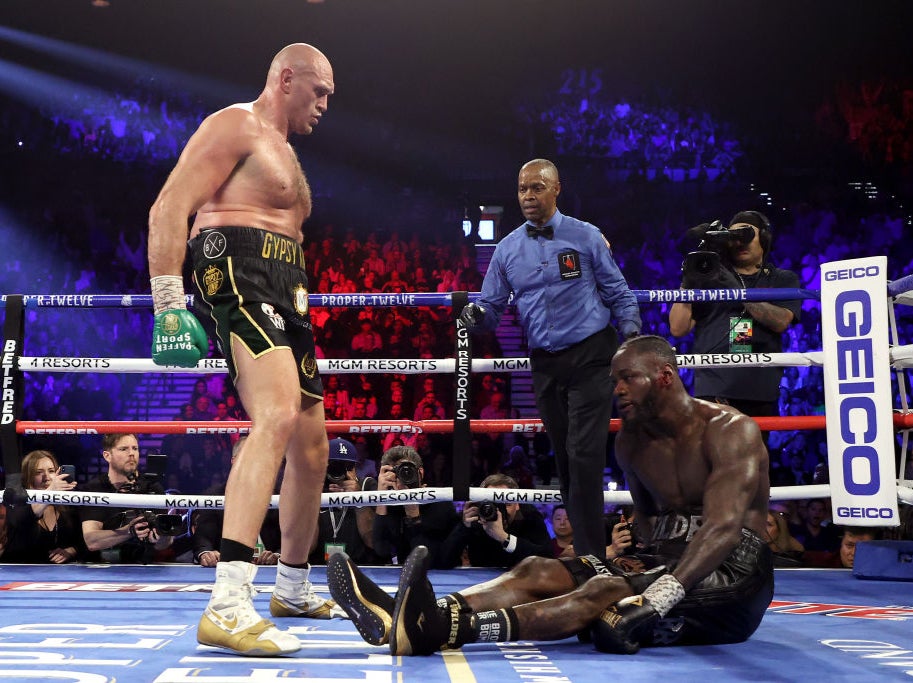 Tyson Fury knocks out Deontay Wilder
"All we're focusing on is the Tyson Fury fight, and anything else happens in 2022, because those two fights will be our plan for 2021."
Hearn added that he would prefer to see Dillian Whyte, who rematches Alexander Povetkin in March, challenge Wilder this year. 
Independent Rugby Newsletter
Live Rugby union coverage direct to your inbox every week
Read our full mailing list consent terms here
"For me, I would like to see Dillian Whyte fight Deontay Wilder, but he has to deal with Povetkin," said Hearn. "Focus on the now, focus on the reality, and Deontay Wilder, I'm sure he'll be in big fights but for us, we know our plans for 2021."
One stumbling block remains a possible legal challenge between Wilder and Fury's respective teams, with the American intending to enact a clause for a trilogy fight – a stipulation which Fury's camp said has now expired.
Asked if the ongoing arbitration could jeopardise a Joshua-Fury bout, Hearn added: "That's a problem and a question really for Top Rank, and Bob Arum [Fury's US promotional team].
"We've been assured by them, that's not going to be an issue in making this fight.
"I do believe that Deontay Wilder, he was supposed to be fighting in January. Now we're in the middle of February, so how much longer is he going to wait?
"He's been out of the ring for a year now, and he's slowly imploding in every single interview that he gives. He should get back in the ring.
"That's a Fury problem, a Team Fury problem. We're confident that it won't impact our fight, or the announcement."
Source: Read Full Article