I am genuinely unsure of what we all did to get so lucky, but we must have done something to get brand new music. No, not from Lady Gaga, Rihanna, or Adele, sorry—patience on those ladies, young grasshopper. I'm talking about new music from one of the best pop stars from the early aughts here. The only, the only: Lindsay freakin' Lohan.
On Twitter and Instagram, Lindsay announced that new music was on the way with a simple two word tweet saying "I'm back!" along with a 30-second snippet of her upcoming project. No word on what it will be called yet, but if you are like me and itching to have it in your Spotify library as soon as possible, it's available to pre-save RTFN—God bless! Oh, and did I mention that this is her first major music release in 12 YEARS???
I'm back! 👀
https://t.co/xQCrvZsVJR pic.twitter.com/DKQ4tzCAUR
For the record, we've been hella overdue for some new Lindsay music for quite some time now. Lindsay gave us an album back in 2005—nearly 15 (!) whole years ago—with the release of A Little More Personal (Raw). And in 2004, Lindsay put out her debut record Speak…you know, the album that gave us the gift of "Rumors."
Thankfully, Lindsay has acknowledged that we need more of her poetic genius in our lives, so she signed a fresh deal with her former label, Casablanca Records. Back in January, an Instagram fan page shared a pic of Lindsay onstage and wrote, "Hope we get LL3 this year!" (same) to which she replied "End of Feb!" We didn't get the album, sadly, but it looks like she's trying to make up for it now.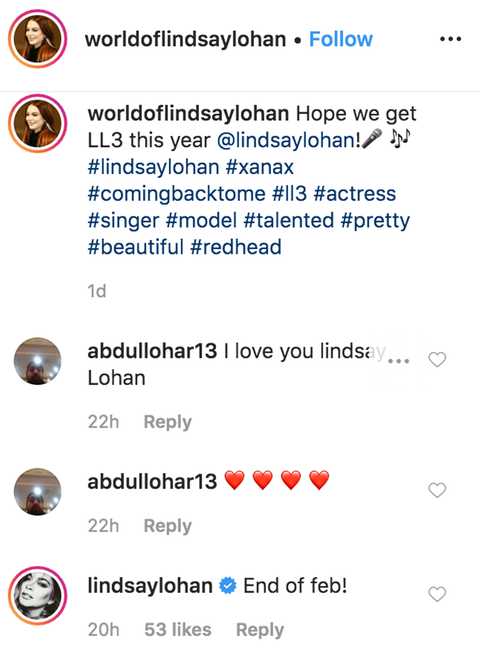 And of course, her fans are freaking out about it online:
LINDSAY LOHAN IS COMING! I REPEAT: LINDSAY LOHAN IS COMING BACK! 🚨🚨🚨 pic.twitter.com/TaSCtT8uj9
Lindsay Lohan making her music comeback during a world-wide pandemic is the most Linday Lohan thing Lindsay Lohan has ever done. pic.twitter.com/CrTbOmSDh6
BREAKING NEWS: Beyoncé and Taylor Swift have decided to pack their bags after being notified that Lindsay Lohan is returning to music! pic.twitter.com/kxqnAxk1KQ
all pop girls better watch out lindsay lohan is back pic.twitter.com/CBRDOPKtmm
In conclusion: If you peep me on Spotify listening to Lindsay's greatest hits on repeat for the next 24 to 96 hours, please mind your damn business. Ciao!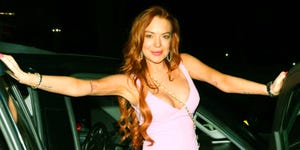 Source: Read Full Article