NSW Premier Gladys Berejiklian has established a special commission of inquiry into the Ruby Princess debacle after it emerged police and coronial investigations could take a year to finalise.
Ms Berejiklian will announce on Wednesday that she has appointed Bret Walker SC as the commissioner and he will report back to the government within three to four months.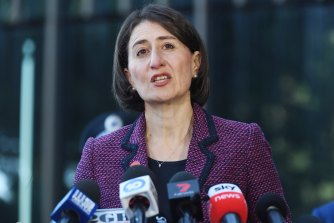 NSW Premier Gladys Berejiklian on Tuesday.Credit:Nick Moir
Speaking earlier in the day, Ms Berejiklian said it was important not to cast blame before the facts involving Newmarch House had been established.
"Obviously it's of huge concern and very disappointing if someone who has the disease keeps working," she said. "We can't cast blame automatically, let's wait for the facts. What if the person did not know that they had it. That's a concern."
Ms Berejiklian said the number of cases in NSW continue to drop, but stressed that testing numbers had been lower over Easter and there was still a concern around community transmission.
There were seven new cases of coronavirus in the 24 hours to 8pm Monday, taking the total to 2870. There were no new deaths.
Ms Berejiklian also announced that people who test negative to COVID-19 will now receive their results within hours via text message, allowing people out of self-isolation earlier.
Ms Berejiklian indicated that there are unlikely to be changes to school arrangements for NSW students in the first couple of weeks of term two, with students to continue home schooling. But she said it was likely that policies around schools would be one of the first restrictions to be relaxed.
The national cabinet will consider school closures when it meets on Thursday.
A senior NSW government source has told the Herald that a range of measures were being considered, including a staggered return for students from different year groups.
NSW Police Commissioner Mick Fuller said there were 55 fines handed out overnight to people flouting the public health orders but said there had been "high levels of compliance" in the state.
Sign up to our Coronavirus Update newsletter
Get our Coronavirus Update newsletter for the day's crucial developments at a glance, the numbers you need to know and what our readers are saying. Sign up to The Sydney Morning Herald's newsletter here and The Age's here.
Source: Read Full Article