Coronavirus infections would be monitored and traced by teams working in local hubs under a proposed new model to deliver a rapid response to outbreaks.
The Burnet Institute has put forward a community-based response proposal, which would harness the knowledge of local councils and health and community groups to achieve faster contact tracing and higher levels of cooperation with health requirements.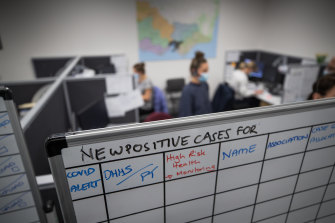 The contact tracing team at work in Barwon Health. Credit:Jason South
The Burnet Institute wants the model to be trialled at particular sites and then implemented in other locations where appropriate.
The research institute has delivered its plan to Victorian health authorities with the intention of improving the response to outbreaks in the community.
It is designed to deliver faster care and support to people who have become infected and their close contacts.
A design concept note says local communities can help combat inaccurate rumours and overcome the stigma of infection that can hamper infection control measures.
"Such community participation matters because unpopular measures risk low adherence," the concept note says. "With communities on side, we are far more likely – together – to come up with innovative, tailored solutions that meet the full range of needs of our diverse populations."
Local contact tracing units have been established in some centres in regional Victoria, but apart from those hubs, contact tracing remains a largely centralised system managed by the Department of Health and Human Services in Melbourne.
The Burnet Institute plan involves using case investigators to quickly call people who have tested positive and interview them about their contacts.
Community tracers would then make frequent follow-up phone calls and visits to people who have tested positive where needed.
Burnet Institute deputy director Margaret Hellard said working with local councils and health services as well as groups that support multicultural communities would help ensure people adhered to requirements from government authorities.
"When people don't follow a requirement it's generally because they haven't understood it, they didn't know it existed or it wasn't feasible," she said. "The vast majority of people want to co-operate."
Professor Hellard said individuals, including parents on low incomes working insecure jobs, may find it particularly difficult to follow messages to self-isolate and need support.
"If you can't pay your rent it's really hard to be told to stay home for two weeks."
Contact tracing work underway at the Barwon Health University Hospital in Geelong. Credit:Jason South
The Burnet Institute model would still be overseen by the state government and Department of Health and Human Services.
A spokesman for the department said there was a "massive army of disease detectives" working across Victoria.
They include epidemiologists, public health clinicians, logistics, phone operators and data entry staff who identify close contacts and investigate positive coronavirus cases.
"Since the pandemic began, we've added doctors, nurses, medical students, paramedics and Australian Defence Force personnel to boost the efforts of our contact tracing team," the spokesman said.
"There are now over 2600 people supporting our public health response and six new COVID regional response units."
The new regional response units are based at Barwon Health, Ballarat Health, Bendigo Health, Goulburn Valley Health, Albury Wodonga Health and Latrobe Regional Health
"They are positioned to act immediately with speed and agility, informed by the local knowledge of how and where the virus is likely to spread in local communities, and to report back centrally."
Sign up to our Coronavirus Update newsletter
Get our Coronavirus Update newsletter for the day's crucial developments at a glance, the numbers you need to know and what our readers are saying. Sign up to The Sydney Morning Herald's newsletter here and The Age's here.
Source: Read Full Article