SuperM world domination is well underway. The K-pop super group first debuted in October 2019, and their debut album SuperM: The 1st Mini Album reached the No.1 spot on the Billboard 200 Chart. SuperM performed on The Ellen DeGeneres Show and Jimmy Kimmel Live!, and toured throughout North America, Latin America, and Europe with their debut album.
Now, SuperM are set to make an appearance on U.S. TV again. The band will appear in a sketch and perform on Nickelodeon's All That. Based on the preview clips available, SuperM's sketch is already iconic.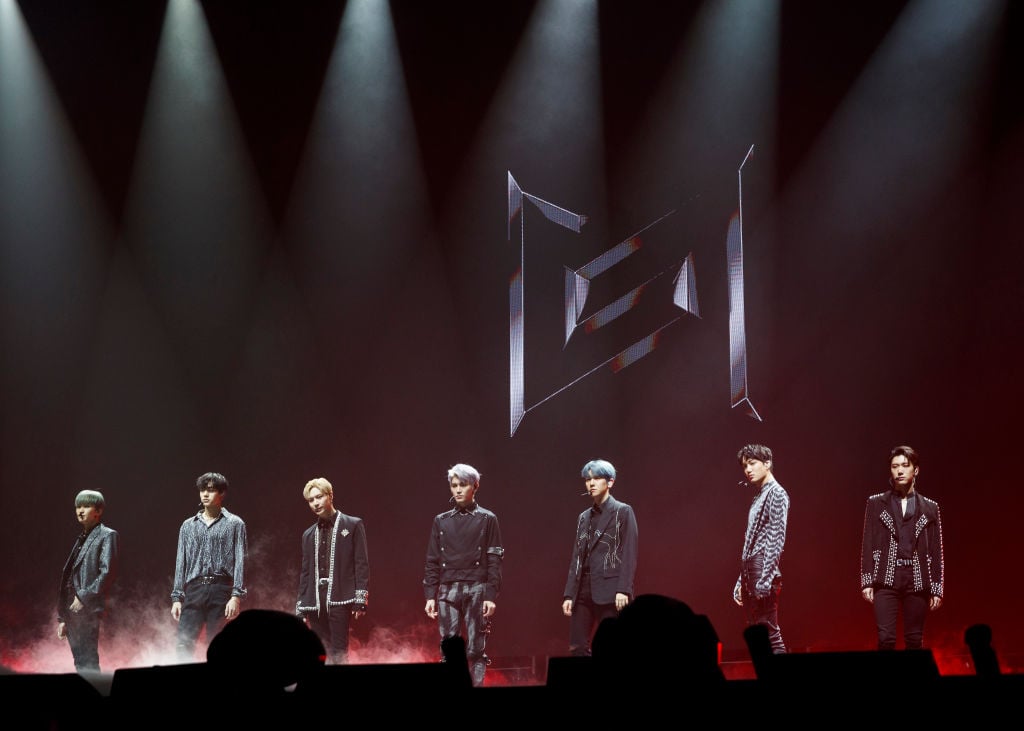 'All That' originally premiered in 1994
The first run of All That aired on Nickelodeon from April 1994 to October 2005. The sketch comedy show is known as Saturday Night Live for a younger audience. In 2019, a revival of the series was announced and original cast members Kel Mitchell and Kenan Thompson serve as executive producers.
Since the series was revived, several famous artists have performed as the musical guest on the show. The Jonas Brothers, Kane Brown, Ella Mai, Ciara, H.E.R., Tyga, Bad Bunny, and Why Don't We are some of the artists who have performed on the revived series so far.
SuperM will appear in an upcoming episode of 'All That'
On March 31, official social media accounts for SuperM and All That shared preview clips of SuperM's upcoming appearance. In the previews of the sketch, the members of SuperM meet fans and then learn that the fans broke into their tour bus and stole some of their personal items.
"Hey, is that my shirt?" Baekhyun asks.
"Is that my wallet?" Taeyong asks. "Where did you get it?"
"Definitely not your tour bus while you were taking a nap," a fan replies.
The SuperM members then hunch together and talk about what to do.
"Guys guys, that's not cool. That's my favorite wallet! My mom gave it to me!" Taeyong says.
"Bro, calm down!" Ten tells him. "My mom's gonna get you a new one."
"That's my favorite shirt!" Baekhyun says.
Taemin then says, "It's just a shirt!"
"Just a shirt?!" Baekhyun exclaims.
SuperM's appearance is already legendary
Truly, what is not to love about SuperM's appearance on All That. It's a great PR move that markets SuperM to a younger audience, but it is also fun for people who are already fans. After the preview clips dropped, Taemin and Baekhyun bickering over the shirt went viral on Twitter.
One fan tweeted, "'IS THAT MY SHIRT?!??' GIVE BAEKHYUN HIS OSCAR RIGHT NOW!!!!"
Another fan tweeted, "filing 'JUST A SHIRT???' under Most Iconic Things To Come Out Of Baekhyun's Mouth right behind 'eh? gingerbread?'"
Fans also noticed the incredible acting from the other SuperM members.
"the passion in taeyong's voice… his dramatic energy… he was born to play the role of Idol Whose Wallet Was Stolen," wrote a Twitter user.
"mark nodding while taeyong is talking about his wallet is sending me," tweeted a fan.
"lucas and kai hanging in the back giving oscar-worthy performances," a Twitter user wrote.
SuperM will appear and perform on All That on April 4, 2020 at 8:30 p.m. EST.
Source: Read Full Article