Paramount Pictures
Happy anniversary, Tommy Boy!
The comedy turned 25 years old on Tuesday. The film opened in theaters on March 31, 1995.
Chris Farley, who passed away just two and a half years after the release, and David Spade starred in the movie. Rob Lowe, Dan Aykroyd, Bo Derek, Brian Dennehy and Julie Warner appeared in it, as well.
For those who haven't seen the movie, the flick begins with Tommy (Farley) barely graduating from college and returning to his hometown in Sandusky, Ohio, where his dad (Dennehy) owns an auto parts plant. Tommy is immediately given a job with a big office and shown the company's new brake pads division. His father also announces he's getting married to Beverly (Derek) and that she has a son named Paul (Lowe). But on the day of the wedding, Tommy's dad suddenly passes away. The company is left in jeopardy and is at risk of being bought out by competitor Zalinsky (Aykroyd). So, Tommy offers to drive across the Midwest to sell the new brake pads and save the family business. However, he doesn't know anything about them. So, he brings along his dad's righthand man Richard (Spade), who always seems annoyed by Tommy's ability to skate by in life. Their road trip makes for one hilarious and bumpy ride.
From the sidesplitting scenes to the quotable one-liners, there are lots of things that make this movie a classic. But there are still some secrets even the most devoted fans might not know.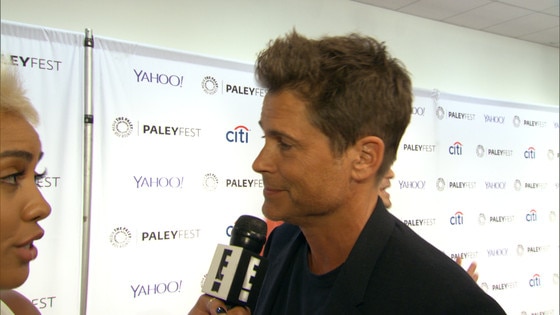 In honor of Tommy Boy's anniversary, here are 25 surprising secrets about the movie.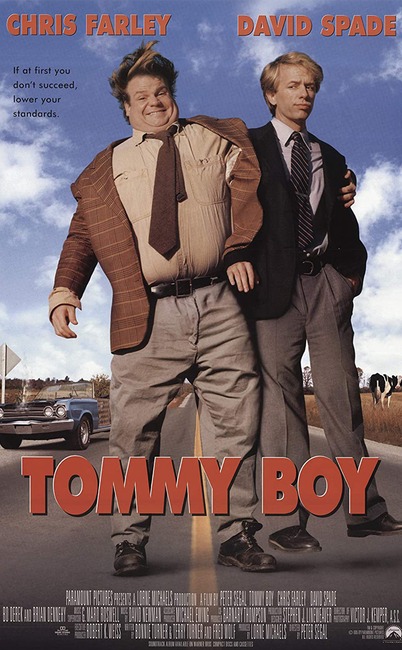 Paramount Pictures
The Movie Originally Had a Different Name
Before the movie was called Tommy Boy, the film was called Billy the Third: A Midwestern. However, Spade and Farley's fellow Saturday Night Live co-star Adam Sandler was shooting another comedy called Billy Madison around the same time. So, the name was changed. The rest, as they say, is history.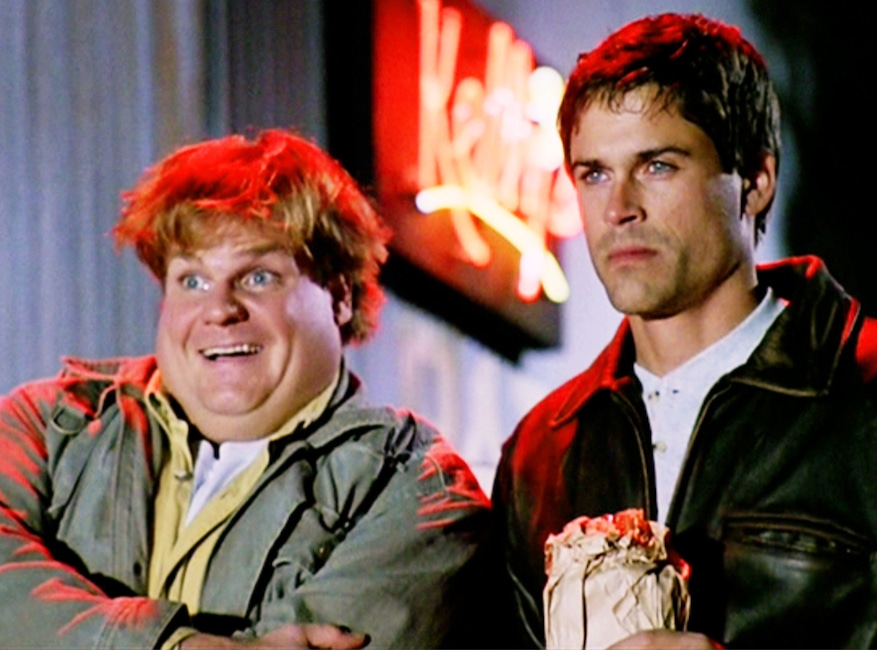 CBS via Getty Images
The Plot Was Also Initially Different
"Well, at first it was a concept that Lorne Michaels had, and that he pitched to Sherry Lansing, about two brothers," associate producer Michael Ewing told Film School Rejects in 2015. "And so the original idea would have been about Chris Farley and Rob Lowe. And so when Pete [Segal] came on as the director, he felt it should be about these two guys, [David Spade] and Farley, and their friendship."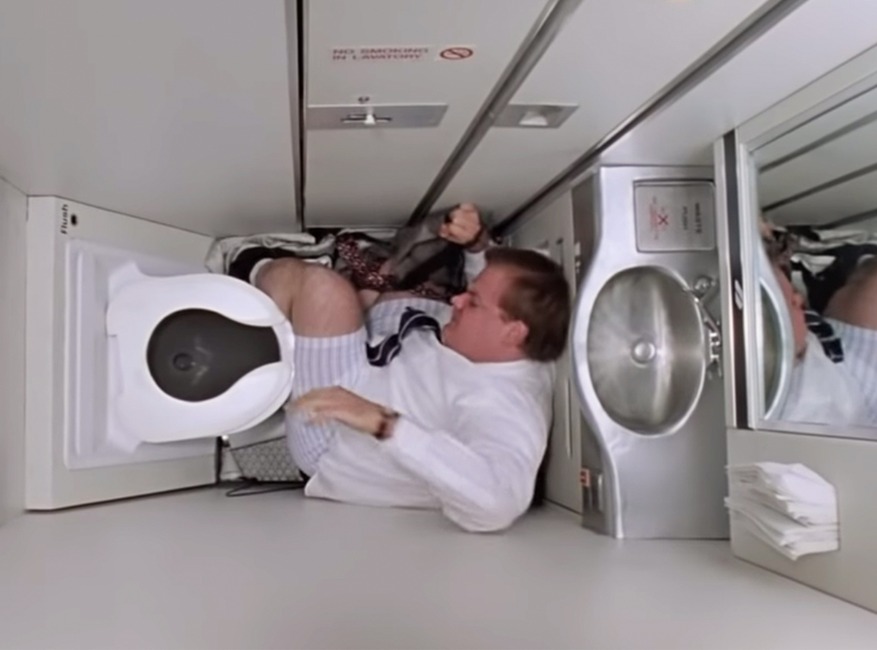 Paramount Pictures
So, They Refocused the Script
The script was originally written by Bonnie Turner and Terry Turner, who later created 3rd Rock From the Sun and That '70s Show. However, Segal ended up tossing most of it and bringing on Saturday Night Live writer Fred Wolf to draft a new one. But when it came time to start shooting, the duo didn't have much to work with. In fact Segal recently told Forbes they started the movie with 66 pages. He also told Consequence of Sound the "only scene that remained from the original script" was the one about "Tommy changing in the airplane bathroom."
Article continues below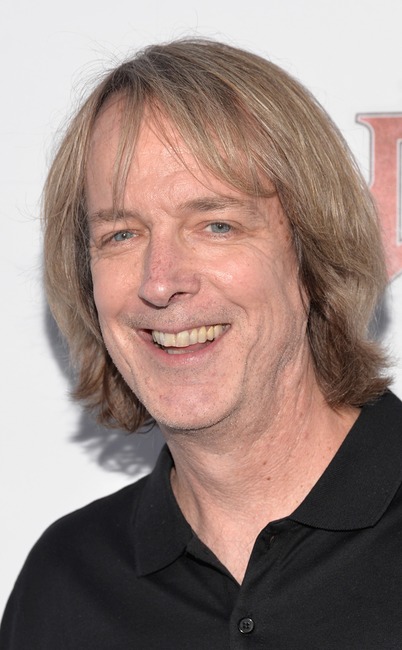 Michael Tullberg for Getty Images
This Marked Fred Wolf's First Movie, But He Didn't Get Credit
"It was my first movie," Wolf said in The Chris Farley Show: A Biography in Three Acts. "I didn't know enough to know that it was abnormal, though obviously it was. Pete and I would write until three or four in the morning, and then he'd have to be on set by six. Then, while they were shooting what we'd written the night before, I'd be in the hotel room writing the scenes for the next day."
Still, the Turners got the writing credit.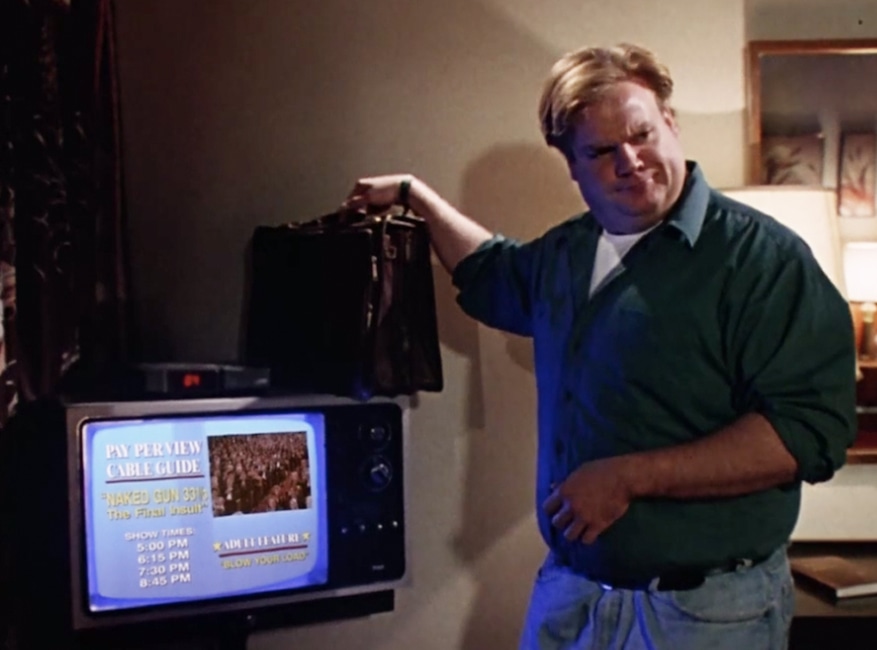 Paramount Pictures
It Also Marked the Second Film Peter Segal Had Ever Directed
When Segal signed on to direct Tommy Boy, he had only one feature film under his belt—Naked Gun 33 1/3: The Final Insult. In fact, the filmmaker gave a subtle nod to the movie by having it appear on the TV screen during one of Farley and Spade's hotel scenes.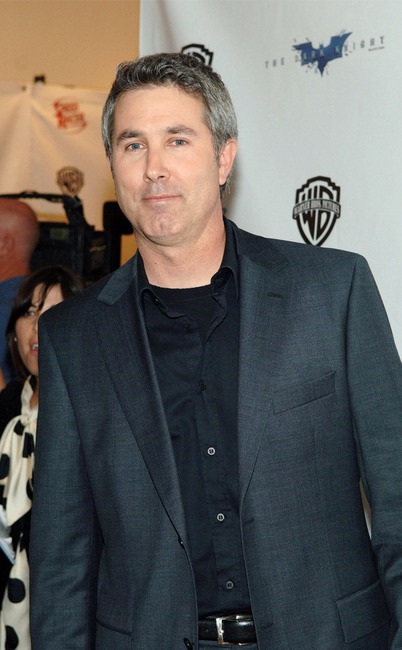 Denise Truscello/WireImage
At One Point, Segal Actually Tried to Quit the Movie
"Normally, when you're doing an SNL film, you shoot in their hiatus, the summer hiatus," Segal explained to Film School Rejects in 2015. "We had used our summer hiatus to figure out what the movie was going to be, and by the time we did figure it out, we were in the SNL season. So it became, you know, really difficult. At one point, even I thought it got so out of control—the fact that Fred had to go back to SNL and the script really wasn't there—that I didn't think the movie would be possible. So I even tried to leave. I tried to quit the movie. And you know, I was threatened with a lawsuit, so I had to stay."
Article continues below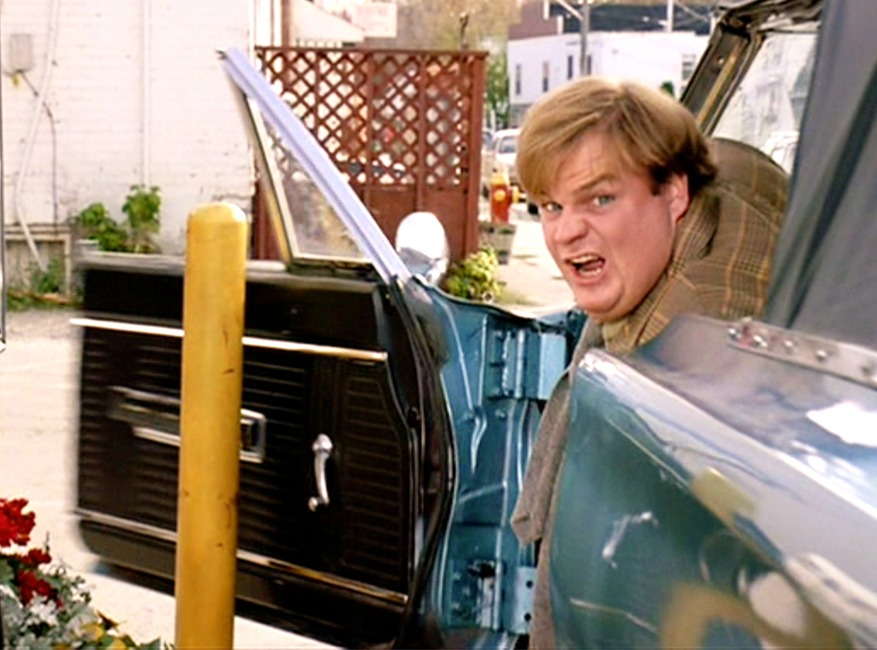 CBS via Getty Images
Segal & Wolf Wrote Scenes Based on True Experiences
During the writing process, Wolf and Segal would write down their real-life experiences on note cards.
"I said, 'A couple weeks ago, I was at a gas station. I parked a little too far from the pump. I had to back up my car. I forgot the door was open, and it hyperextended on the pole,'" Segal told The Sandusky Register. "He said, 'I had one that happened to me recently. I changed the oil in my car. I left the can in, and the hood didn't latch, and it popped up on the freeway in my face, and I almost died.' I said, 'That's a good one. Write it down.' I then wrote down [how] I was on a date in high school in Arizona on a lake, and there was a dead calm, and some kids were heckling me and my date because we couldn't move, and I was screaming at them. I said, 'Maybe we'll figure something out with that.' We had all these index cards on the carpet of my office and said, 'OK, let's figure out if we can string this together in some kind of story.'"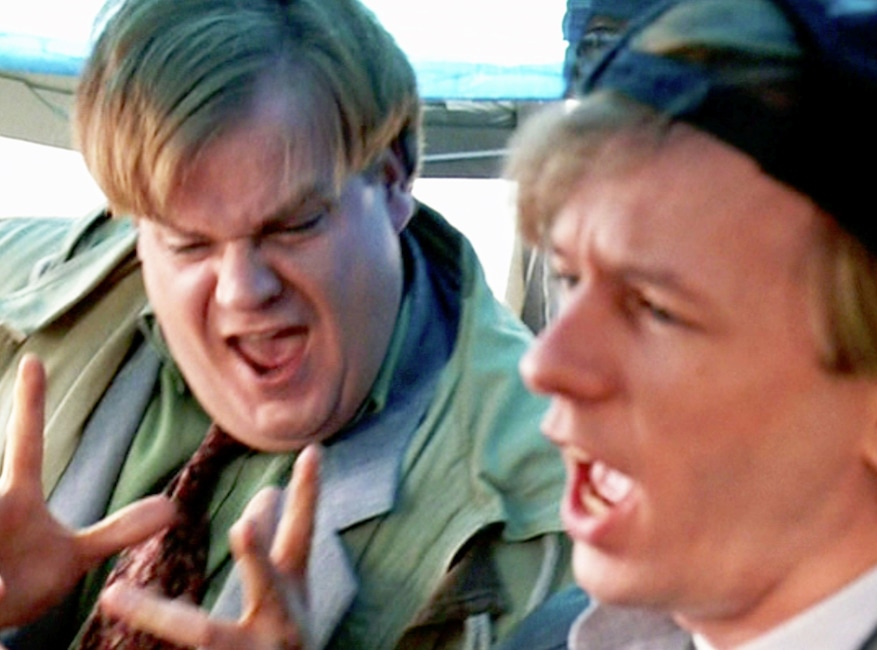 CBS via Getty Images
Of Course, Chris Farley and David Spade Would Also Improvise
"Both Chris and David did come up with a lot of good stuff on the spot. Most of what you see in the final movie was scripted, but at the time, I was grateful for any time that David or Chris had an idea or a joke. I was so hungry for material," Segal told Forbes, later adding, "One time, Chris came out of a wardrobe test with a new suit on, and he said to David, 'David, does this suit make me look fat?' and David said, 'No, your face does.' We put that in the script. I just felt like if I could eavesdrop with those guys because they were such great friends and officemates at SNL, I was bound to pick up some nuggets that I could somehow find a place for in the script."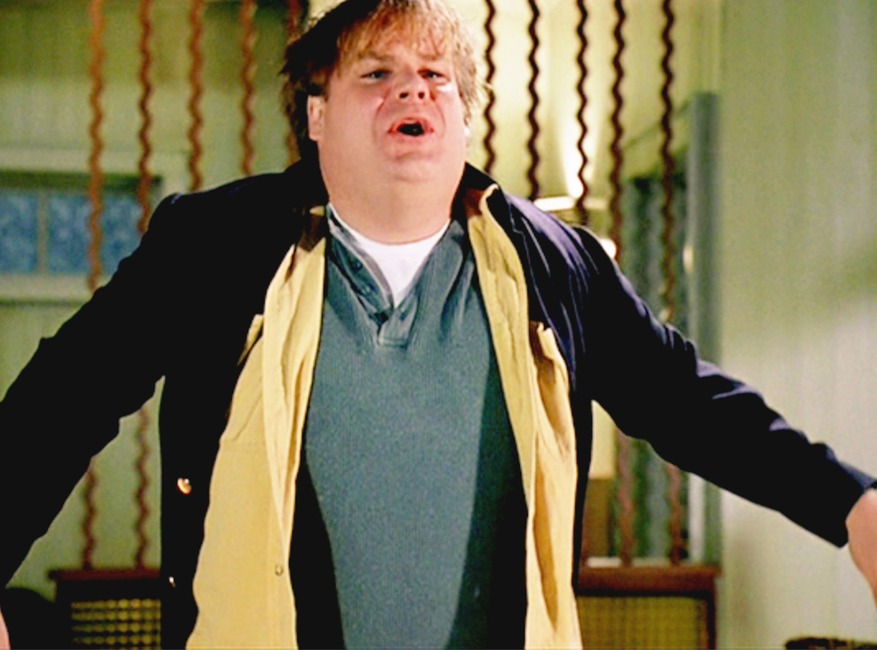 CBS via Getty Images
"Fat Guy in a Little Coat" Was Based on a Joke Farley Did at SNL
"Chris was always doing that bit to me at work," Spade wrote during a Reddit AMA, per Rolling Stone. "We shared an office, and you had to walk through our office to get to Chris Rock and Adam Sandler's office, so these two microscopic offices were back to back, and Chris' desk was behind mine, and he didn't really know how to write, or read, really (kidding!) but he would come in bored, because I would have to write my sketches to try to get on but they would always let him on, so he would get behind me and be bored, everyone would write him sketches, and he would say, 'Davey… Turn around,' and I said, 'If this is 'Fat Guy in a Little Coat,' I'm not turning around. It's not funny anymore.' And he would say, 'No, I've got a whole new thing I'm doing.' And then I'd turn around, and it would be him in my Levi jacket, and he would say, 'Fat guy in little coat! Don't you give up on it!'
"And so when we did Tommy Boy, we were just looking for jokes and scenes to make them better, and we decided that was funny to us, maybe it would be funny to there people," he added, per the magazine. "So we put 'Fat Guy in a Little Coat' in, and he sang it (which was funny, and not the plan), and then we had to cut the coat in the back to make sure it would rip."
Article continues below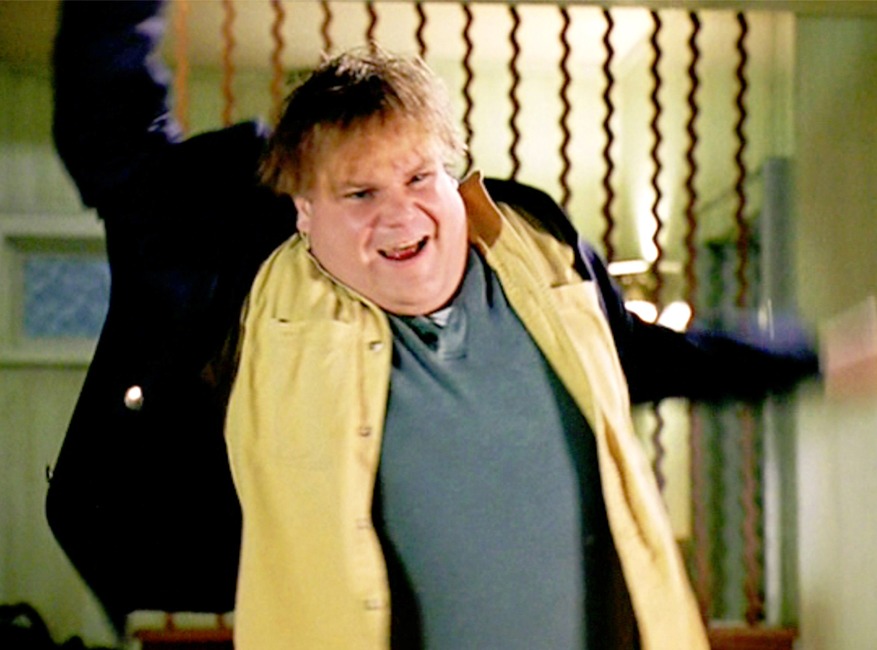 CBS via Getty Images
It Also Didn't Start Off as a Song
"The interesting thing about that, though, is 'Fat guy, little coat' was never a song. He just said it—that's how it goes," Segal told Consequence of Sound. "And we had to go back and reshoot the scene for some technical reasons. I remember my editor saying, 'Oh my God, look at this outtake.' I'm like, 'What?' And by the time we turned the cameras around on Spade, Farley was getting so bored that just to try to get Spade to laugh, he sang the song, 'Fat guy in a little coat.' And my editor said, 'Dude, you gotta go back. You gotta go back and have him sing it this time like he did in the outtake, because he wasn't on-camera.' And so the song 'Fat guy in a little coat,' I attribute to Bill Kerr, my editor. That was his idea to go back and get it."
CBS via Getty Images
Farley Drew Inspiration From Other Comedians, Too
"I said to Chris at a party once after the movie opened, I said, 'I'm really proud of the fact that I think we've got a couple of original catchphrases in this. We got 'Schnikes,' we got 'That's gonna leave a mark." And then Chris said, 'No no no, I got that from John Candy.' I'm like… 'What?" He's like, 'Yeah, John Candy says that in Planes, Trains & Automobiles.' I said, 'You got that from that?' It was too late. But I swear to God, I adore Planes, Trains & Automobiles, and I forever am grateful that they inspired Chris. Any time I hear that, people reference Tommy Boy as if that's where that line came from," Segal told Consequence of Sound.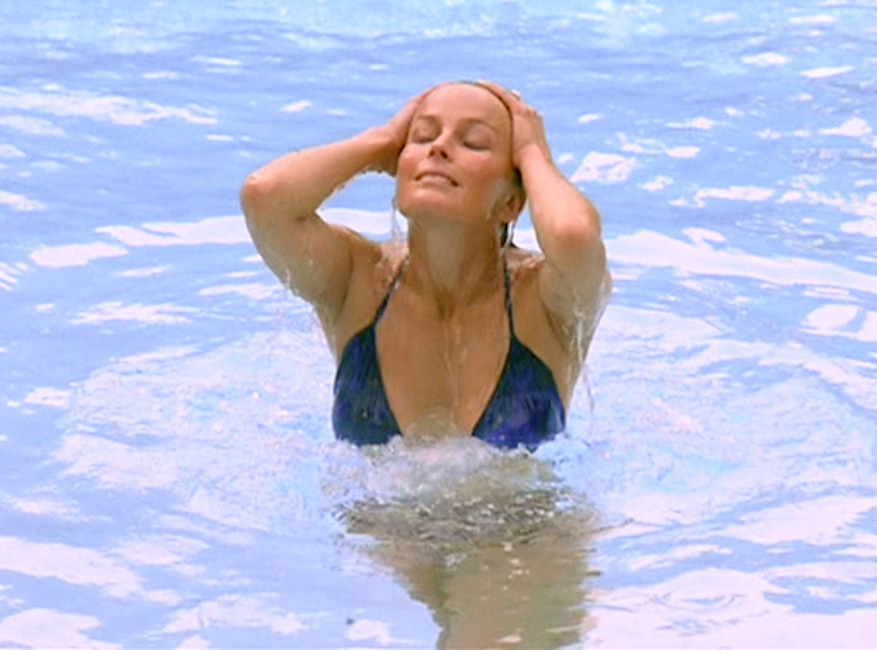 CBS via Getty Images
Bo Derek Said She Was Hired Just Days Before Her Shoot
"I was in China when I got the call, and they asked me if I wanted to do it," the Beverly actress said during a Tommy Boy: Behind the Laughter interview. "I knew about Chris, of course, about Chris Farley. I got very excited, and I got on a plane. I think it was definitely within 48 hours I was coming out of that swimming pool in Toronto."
Article continues below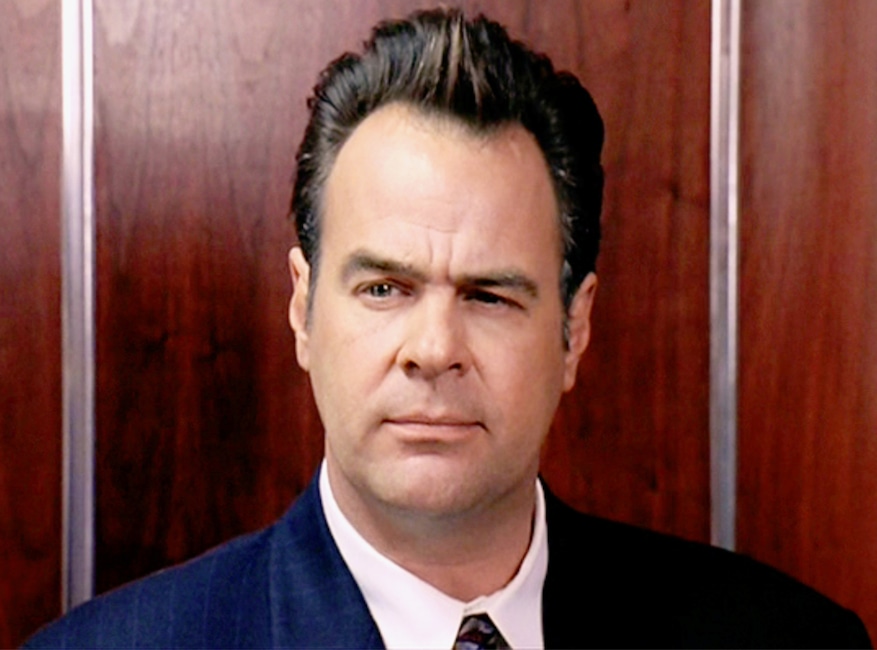 CBS via Getty Images
Dan Aykroyd Filmed All of His Scenes in a Few Days
"We shot everything with Dan I think in about two or three days," Segal said during the aforementioned behind-the-scenes interview. In fact, Ewing said Aykroyd already had his character down when he met with Segal.
"He had already come up with a voice, and he said, 'Oh, the haircut should be a straight-up buzz,'" the associate producer recalled.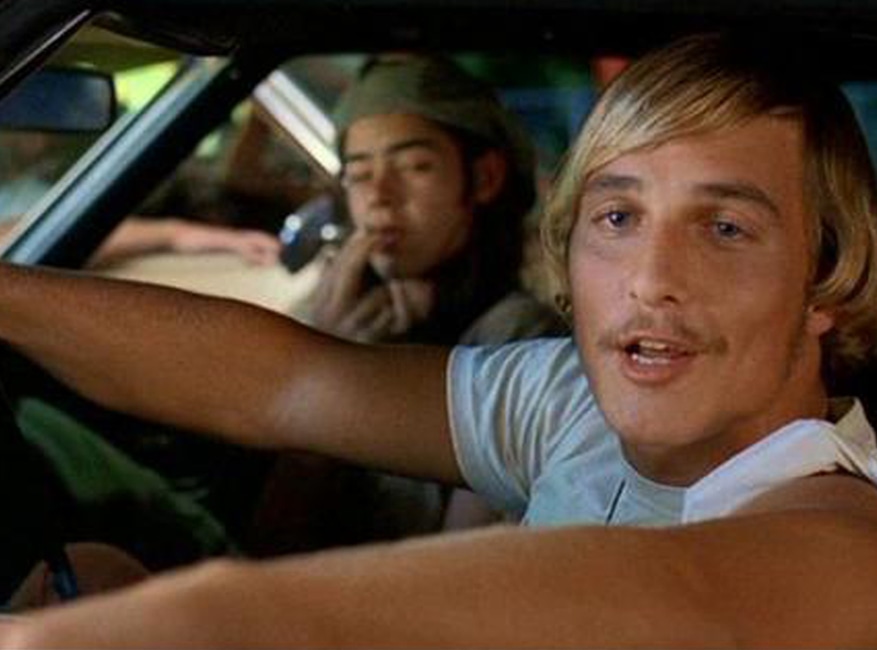 Gramercy Pictures
Matthew McConaughey Auditioned to Play Paul
Before Lowe was cast as Paul, Matthew McConaughey was reportedly considered for the part.
"We were filming the scene on the lake, the dead calm, and then eventually the end of the movie—we were still auditioning who was going to play Paul. You know, Tommy Callahan's brother. Or step-brother," Segal told Film School Rejects. "And I remember that Matthew McConaughey flew in from, I think Texas. He was just coming off Dazed and Confused. And he auditioned in this little shack by the side of the lake that was just covered in mice turds on the floor and it was this really bizarre moment."
CBS via Getty Images
Rob Lowe Wasn't Even Credited for Playing the Character
Speaking of Lowe, he wasn't even credited for playing Paul. If fans look at the credits, they won't see his name anywhere. During a 2015 interview on The Late Late Show, Lowe said he decided to be a "happy surprise" after the original script changed focus. There are a number of theories as to why Lowe's name wasn't included. One rumor is that Lowe couldn't have his name featured because he was contractually obligated to do Stephen King's The Stand .
"I don't really know," Segal said during an interview with Uproxx. "That's the first time I heard that, but I think he did it as a favor to Lorne Michaels because Rob had already been in Wayne's World. And that might've been it. There's always the chance that Rob also thought that if the movie turned out to really suck, that he might protect himself by not having his name on it. I don't really know. I never asked Rob that."
Article continues below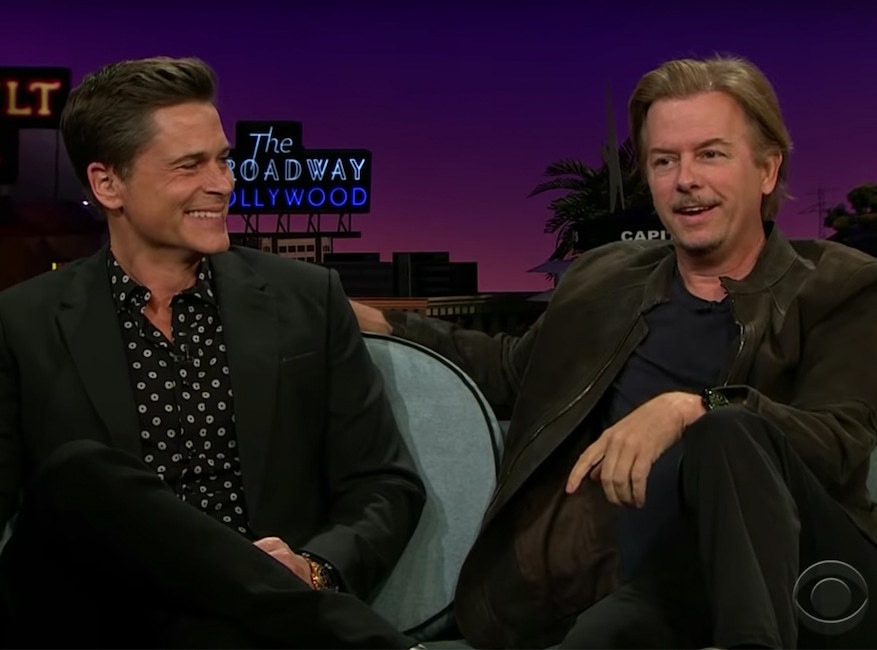 YouTube
Farley and Spade Actually Fought Over Lowe
Lowe and Spade told the story on a 2015 episode of The Late Late Show. According to Spade, there was one night when Farley wasn't feeling well and decided to go to bed early. So, Spade and Lowe went out for a drink. However, Farley was upset he wasn't invited. "He's like, 'How's Rob Lowe?'" Spade recalled.
"We go to do a scene. [Lowe is] inside with Bo Derek, and I'm outside with Farley and it's freezing," Spade said. "So, I'm on the ground eating a tuna fish sandwich, and it's, like, 30 degrees…He's still being a weirdo, but I just don't notice it anymore. So then, he's just staring at me, I guess, biting his lip. Then he comes over, and he crunches my hand and the tuna sandwich…Crunches with his big fat boots. Then, I got up and threw my Diet Coke on him. It was straight out of, like, Atlanta Housewives or something. Then, he threw me down the stairs."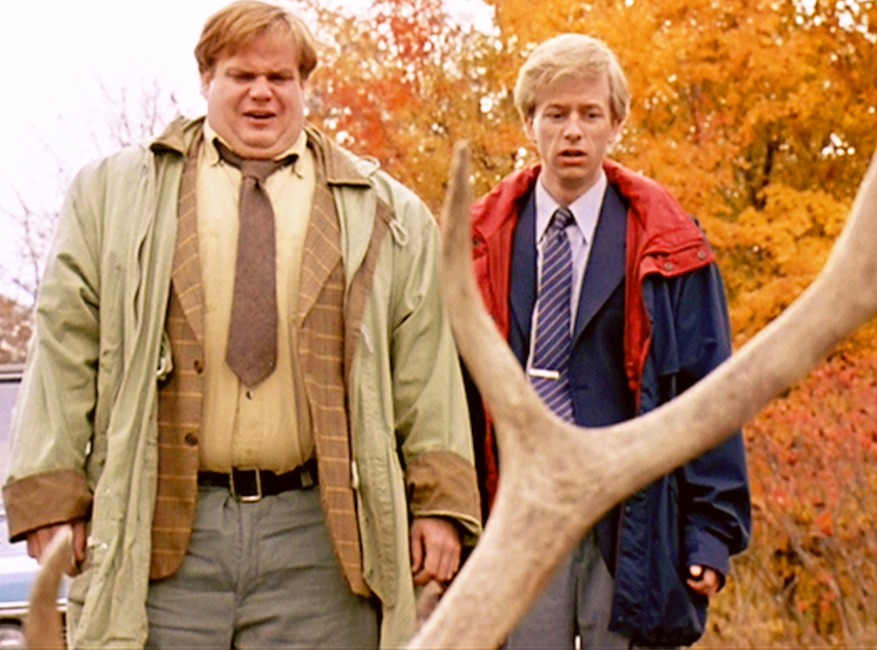 CBS via Getty Images
Farley Did His Own Stunts
From falling on tables to rolling over cars, Farley did his own stunts.
"He was completely dedicated to doing all his own comedic stunts," Ewing said during the aforementioned behind-the-scenes interview.
Segal said Lowe did his own stunts, too, including get attacked by the guard dog and getting nailed after a crash test.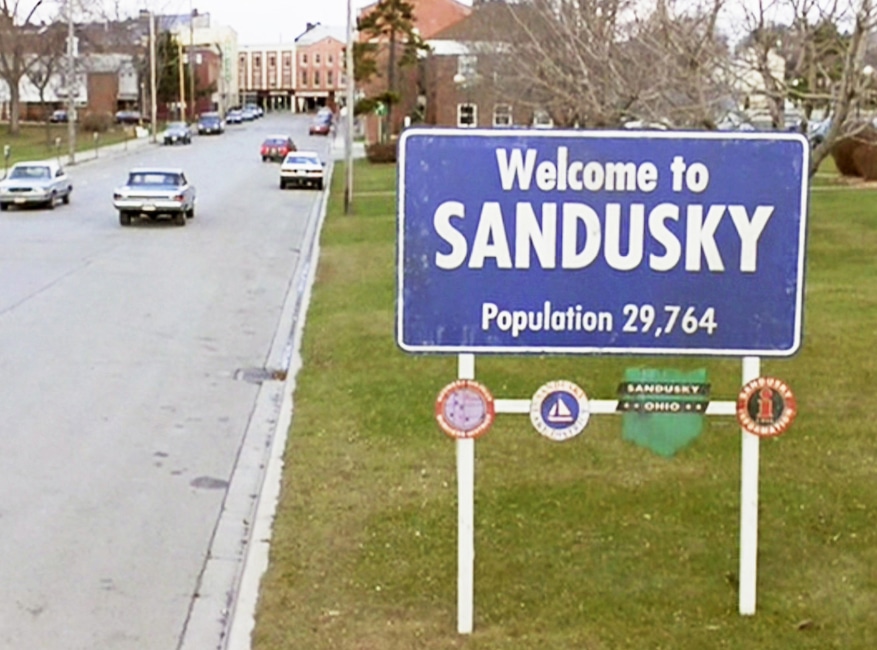 CBS via Getty Images
The Movie Was Set in the Midwest But Was Filmed in Toronto
Tommy's father owned an auto parts plant in Sandusky, Ohio in the movie. After the proud parent passed away, Tommy and Richard drove across the Midwest to sell brake pads and save the family business. However, the movie was actually filmed in Toronto. Ewing told Film School Rejects Farley and Spade would fly back and forth between New York and Toronto every few days to work on both SNL and the movie.
Article continues below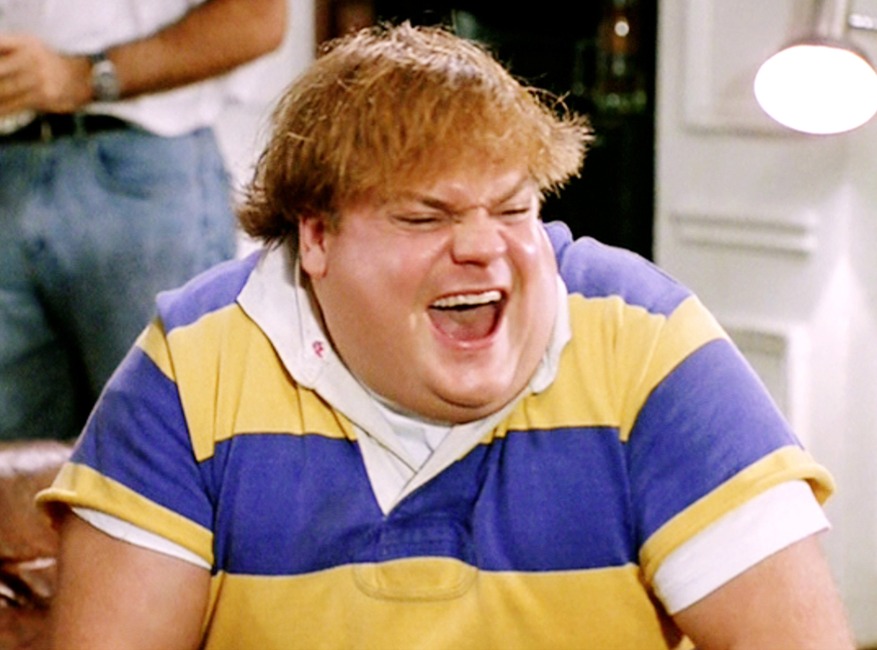 CBS via Getty Images
Still, Farley Paid Tribute to His Midwestern Roots
In the movie, Tommy (barely) graduates from Marquette University in Wisconsin. Farley actually attended Marquette University in real life. In addition, Farley lived in a house with his rugby teammates. In the film, Tommy wears a rugby jacket and is seen hanging out with his rugby buddies in a house.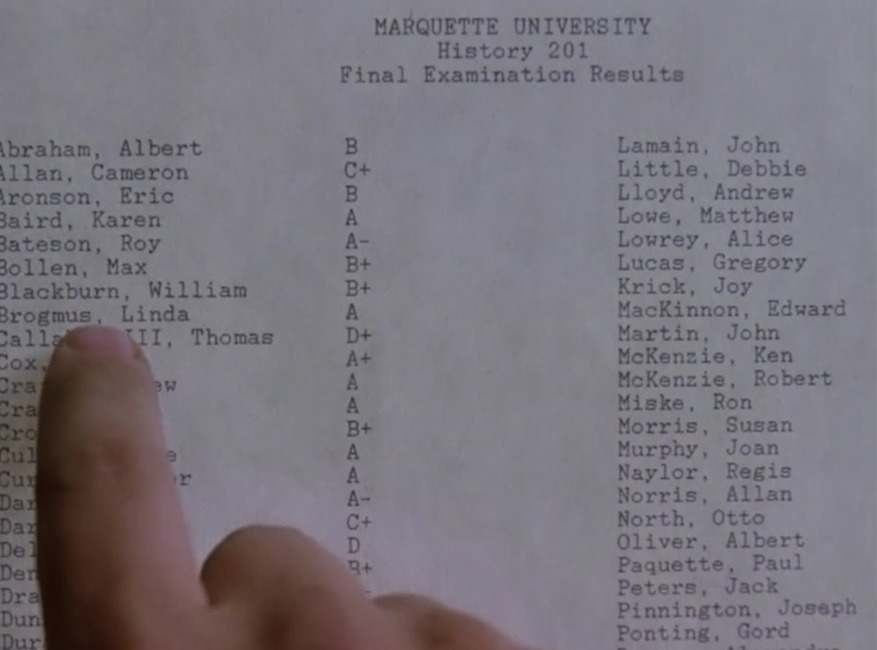 Paramount Pictures
There Were Easter Eggs in the College Scenes
For instance, if fans look at the names in Tommy's class, they'll see the names Helen Keller and Little Debbie.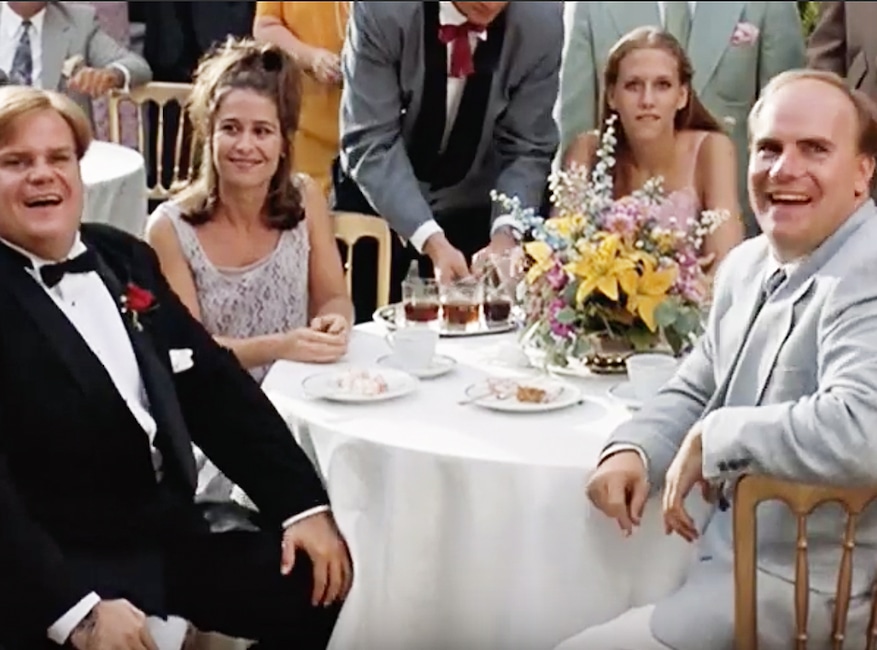 Paramount Pictures
Farley's Brother Appeared in the Film
"Brothers don't shake hands. Brothers gotta hug,"… and appear in each other's films. That's right. Farley's brother, Kevin, had a quick cameo during scene of the wedding for Derek and Dennehy's characters.
Article continues below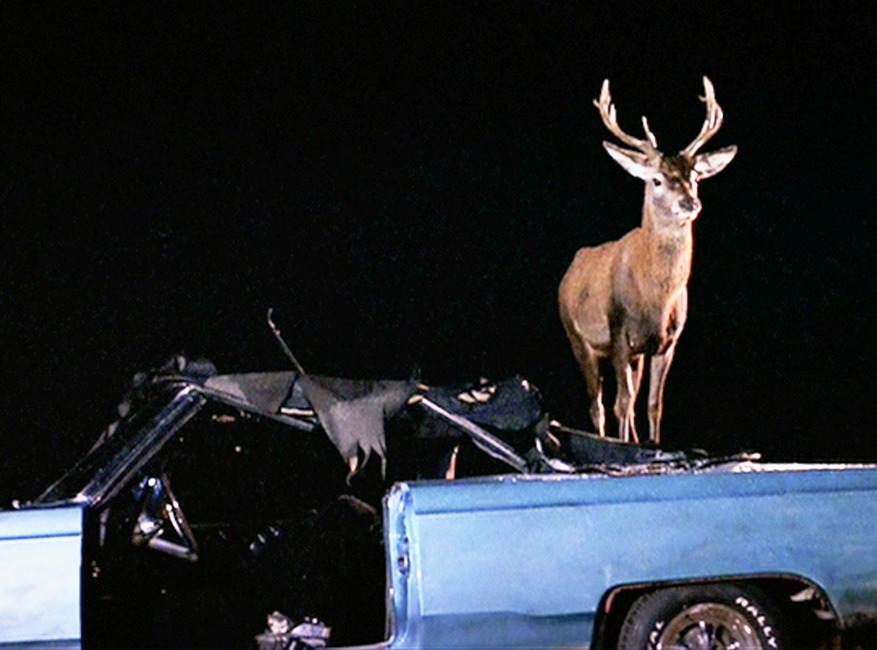 CBS via Getty Images
The Deer Scene Was One of the Hardest to Shoot
"To get that one shot, here's what we had to do: We had four Plymouth GTXs in the movie, and we had to donate one of them to the deer farm," Segal told Consequence of Sound. "They put the car in the pen with the deer, and we put bushes around it, and we hid the cameras in the bushes with lights. Every day, for one month, they put a ramp at the back of the far end of the car, so that the deer could crawl up and s–t and piss and eat food in the car, until he literally smelled himself and was comfortable. One night at the end of that month, he was going up to take a dump and the camera lights turned on like an ambush. That's how they got the shot."
Sometimes, they didn't even use a real deer. For instance, Segal told the outlet a guy on the crew wore a deerskin over his shoulders and antlers for the scene where the "deer" destroys the inside of the car. Similarly, in an interview about the making of Tommy Boy for the "Holy Schnike Edition," executive producer Robert K. Weiss said they used a goat to capture a close-up of the "deer's" legs crossing the road.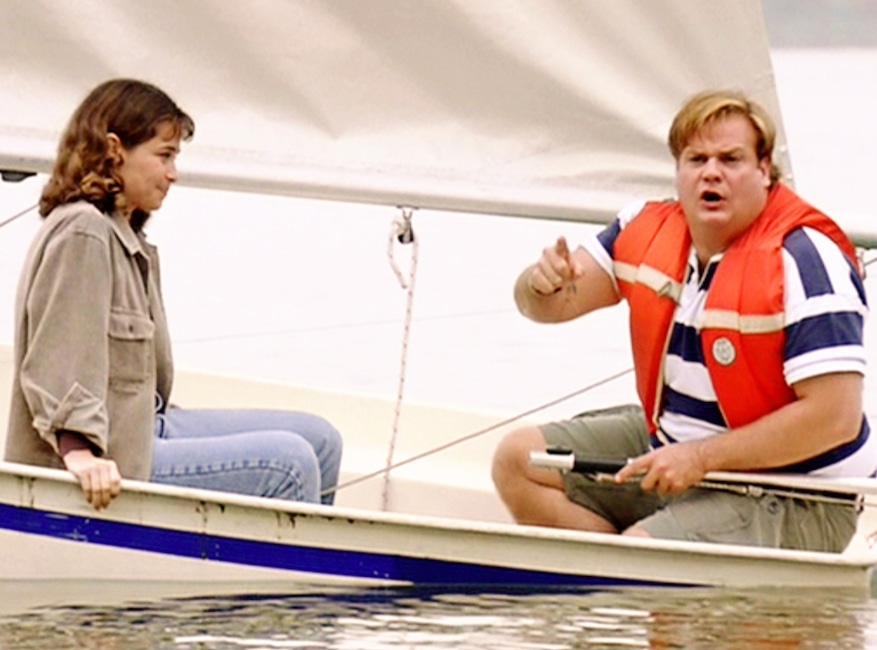 CBS via Getty Images
They Initially Didn't Know How to End the Movie
"We had no idea how this movie was going to end, and Len Blum came in and I said, 'Dude, I don't know how to end this movie. I'm shooting my guts out. I'm exhausted. Take a look at the assembled footage of what we have and tell me if you can come up with something,'" Segal recalled to Uproxx. "And he goes, 'Oh, well that scene that you have with Julie Warner and Chris on the lake in the early part of the movie, that was so sweet and so nice. Why don't you do a callback and have that be where Chris talks to the spirit of his father?' And I'd always wanted to do something with Chris talking to the spirit of his father, but I originally tried to do it on the water tower above the Callahan factory. And that always felt corny and not right. And then Len found a way to place it. The lake had to have a dead calm, no breeze at all for this to work a second time. So, we felt like we were asking mother nature for a second favor and it worked out beautifully. We went back to the lake on a different day, shot an ending with a dead calm scripted into it, and it worked really well. So, I have to say that one was a very special scene that stands out."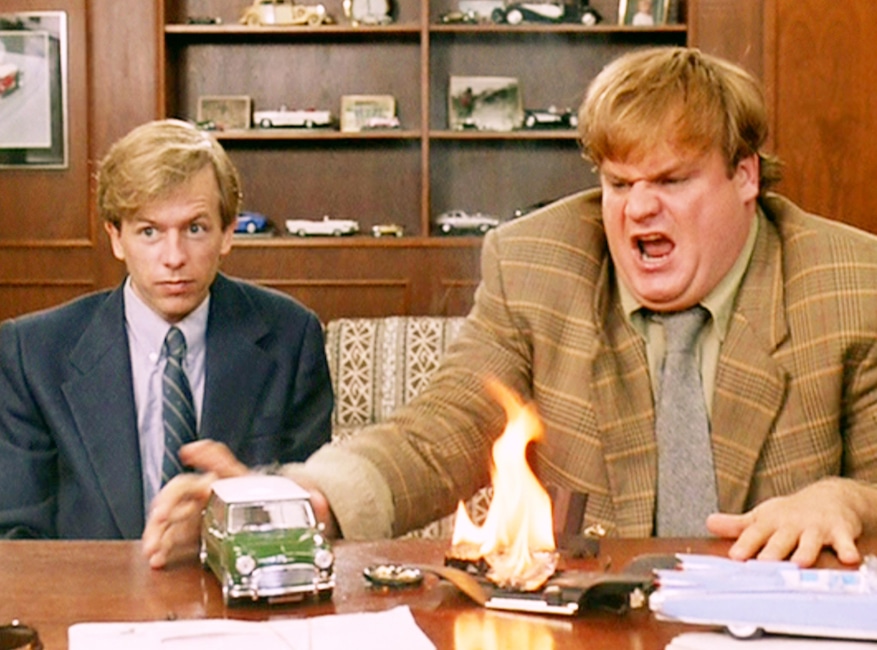 CBS via Getty Images
The Movie Developed Its Loyal Following Through Home Video
Tommy Boy didn't rake in big numbers at the box office; however, it developed a loyal following through home video.
"Tommy Boy opened to a little over $8 million but still managed to open in the number one position at the box office. We got a little bit of positive heat from that, and months later, I kept hearing people still talking about it," Segal told Forbes, later adding, "It was a decade later when they were doing something for the movie's tenth anniversary, and I asked Paramount Pictures why they were making such a big deal out of it. That was when they told me that it a top ten seller for them on video. I asked them what that meant. Did they mean that year? What they meant was that it a top ten seller of all time for the studio. I said, 'You mean with The Godfather and Raiders of the Lost Ark and movies like that?' and they were just like, 'Yeah.' It only made $32.7 million at the domestic box office and was never released internationally. It made its fortune on home video."
Article continues below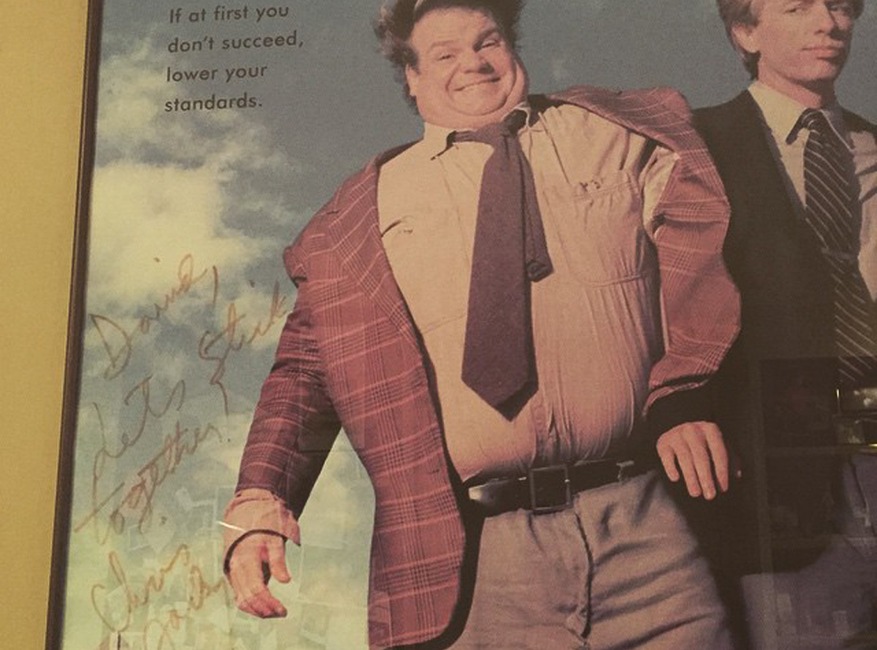 David Spade/Instagram
Spade & Farley Gave Each Other Autographed Movie Posters As a "Joke"
"It's hard to read but on the poster it says 'David, let's stick together!' Signed by Chris. We gave each other autographed posters as a joke back then. Now I see it in my office and skim over it because if i think about that for more than five seconds I'll start bawling," Spade wrote on Instagram. "Like now. As Chris would say. What a p—y #RIP."
Now, who's ready to watch it all over again?
Source: Read Full Article