Melbourne Water has apologised for a "rare event" that led to more than 270,000 Victorians being told to boil their drinking water for up to two days last week.
On Friday, Yarra Valley Water and South East Water were left scrambling to secure treated water supplies for 99 suburbs, after storms on Thursday night sparked power outages that allowed untreated water from Silvan Dam to enter the water supply.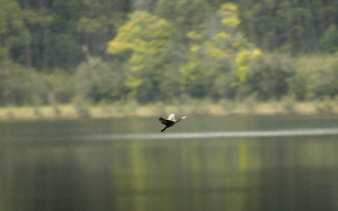 Untreated water from Silvan Reservoir was accidentally released on Thursday night, leading to boil-water notices being issued for 99 suburbs.Credit:Joe Armao
Yarra Valley Water issued a warning to its customers on social media, directing customers to its website for more information about whether their suburb was affected.
Both providers' websites crashed, amid widespread complaints from customers they weren't told about the issue until after they'd drunk potentially contaminated water.
But Melbourne Water on Tuesday moved to assure customers that even untreated water from Silvan Reservoir is among the cleanest in the world.
Yarra Valley Water and South East Water buy bulk water from wholesaler Melbourne Water, which gets water from a range of water catchments.
The water released into parts of Melbourne's water system on Thursday night came from Silvan Reservoir, where it is naturally filtered from forested catchments that are off limits to the public.
Melbourne Water says this water usually requires minimal chlorination treatment because of its high quality, and that untreated water is of low risk to the public.
Melbourne Water service delivery general manager Craig Dixon said a series of failures led to the water contamination.
"Thursday night's severe storms caused a widespread power outage with the subsequent failure of the two – main and back-up – incoming power feeders causing the treatment process of water from Silvan Dam to go offline," Mr Dixon said.
"The generator kicked in and, after successfully running for a number of hours, failed. This is a rare event.
"In the last 20 years this is only the second time in which the two main power feeders and the generator have failed at the same time at Silvan water treatment plant."
Melbourne Water is still investigating the incident and said that it was working to lessen the impacts from future outages where possible.
Melbourne Water brought in backup generators on Friday, and restored one mains power feeder on Friday night. The second feeder was brought back online by Saturday morning, and water was again being treated later that day.
All of the Melbourne suburbs cautioned to boil their water due to a contamination scare were given the all-clear on Sunday.
Get our Morning & Evening Edition newsletters
The most important news, analysis and insights delivered to your inbox at the start and end of each day. Sign up here.
Most Viewed in Politics
Source: Read Full Article