He first shot to fame in 2015 when he began posting EDM-based remixes of popular songs on the then-fledgling Internet. But since then, Marshmello has become a bona fide sensation. A multi-platinum, Billboard chart-topping producer with a cult following, Marshmello has worked with some of the industry's biggest superstars, including Selena Gomez, Khalid, Bastille, and Logic. 
Yet, despite his pop culture success, the person behind the Marshmello persona remains more than a bit of a mystery. The EDM sensation doesn't ever come to a public appearance without wearing his trademark, marshmallow-shaped helmet that keeps his face completely obscured. What's more, he never speaks in public, either — preferring instead to use sign language and gestures to communicate ideas — so it's difficult to match a voice with a face (or helmet, as it were). 
Being an enigma in a digital world of over-exposure is no small feat. But what is Marshmello's real name? We dug in deep to find out. 
Marshmello's real name is surprisingly traditional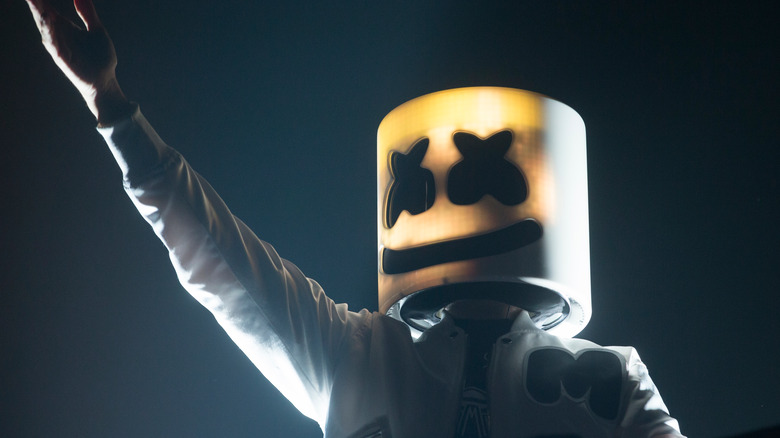 As Marshmello was reaching the height of his popularity, Forbes did a unique "expose" on the popular DJ and producer. The investigation was prompted by Katie Couric, who accidentally called the icon "Chris" during a 2015 interview with Skrillex. And their research ultimately cracked the code behind the Marshmello mystery. 
As it turns out, his real name is Christopher Comstock, and he sometimes goes by Dotcom when he works as a DJ and a producer. Though Dotcom and Marshmello were initially listed on "the same management roster," Forbes revealed that they were, in fact, one in the same person. Although Dotcom likely won't appear on any popular baby name lists anytime soon, Christopher is a traditional and commonly used moniker. Who would have thought! 
But even before Forbes revealed his true identity, fans pieced it all together when they took to Twitter to reveal that Marshmello and Dotcom had the same unique leg tattoo. When reached for comment by Forbes, Marshmello — and his legal representatives — declined to make a statement. However, he seemed to all but confirm it in a subsequent tweet.
"My name is Chris…short for Christmas came early," he wrote.
Source: Read Full Article