In the history of 90 Day Fiancé and its spinoffs, one of the most memorable couples is certainly Angela Deem and Michael Ilesanmi. Their journey first began in season 2 of 90 Day Fiancé: Before the 90 Days. Angela travels to Nigeria to be with Michael for the very first time, but there's no shortage of drama along the way. Angela even slaps Michael at one point when she doesn't like what she hears.
Michael Ilesanmi and Angela Deem do some shopping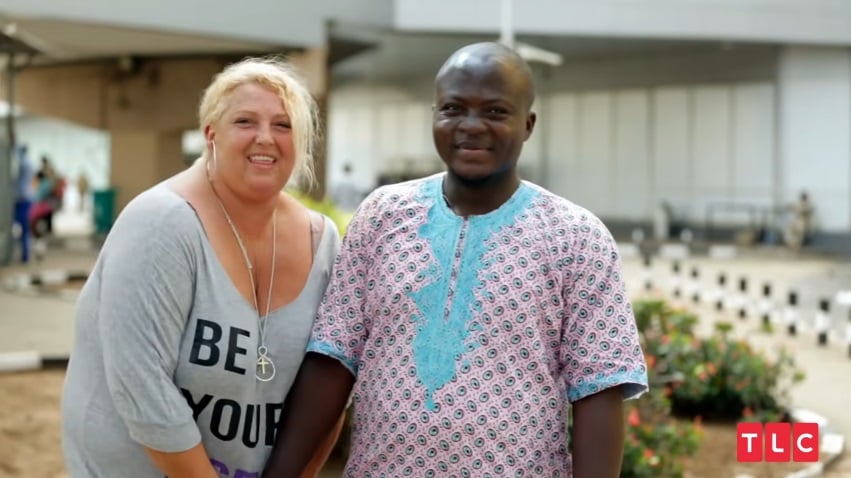 Michael takes Angela to an African market, and they do some shopping. "Today, I wanted to relax at the hotel," Angela reveals. "But Michael is taking me to the market today because we have talked in the past about him wanting me to wear African attire. He's very adamant about it."
As they walk through the shops, Michael wants to stop and look, and says he wants to "show" Angela, but she steers him on down the row of shops.
"They're beautiful outfits, they are, but they're not for me," Angela tells the cameras. "So I'm out of my comfort zone."
Michael wants Angela to "respect" his culture. They stop by another shop, and they enter the establishment to look around more. They peruse the options available, and Michael asks what she thinks about it, and Angela says they're "very beautiful."
Michael makes a comment that makes Angela slap him
She mentions that she's "big." Angela tells Michael to tell the woman working there that it isn't the material, but she's "self-conscience" about her "weight." However, the retailer speaks English, and Michael tells her not to bring out the dresses, and Angela tells her not to "widen it."
Michael then adds a comment that is totally uncalled for, and it really upsets Angela. "It looks embarrassing to her because she's fat," Michael says in regards to the retailer widening out the fabric. Angela then lightly slaps Michael on the face twice for it.
Angela questions Michael's comment, and he says he "didn't mean it." She is clearly upset about the whole situation, considering she didn't even want to look at dresses to begin with.
Angela mentions that Michael's comment about her weight was really "embarrassing" to her and "insulting."
"You said it, you did it, you meant it, that's it," Angela bluntly tells him. Michael says Angela feels "insecure" and she "gets upset." They leave without purchasing any fabric or a dress after that horrendous comment on Michael's part. Angela and Michael go off to the car, and Angela is still hurt.
"It makes me feel like he might be ashamed of me," Angela tells the cameras. She mentions to Michael that she's "self-conscience" about her "weight." Michael says he gets her. "And then you say, yeah, you got me? Oh I can't tell," Angela says as she gets in the car.
Obviously, this is an unfortunate situation for the couple. Angela is already dealing with insecurities about their age difference, and this situation certainly can't be helping matters.
This is only the beginning of the couple's issues. They eventually go on to get married, but problems still persist.
Source: Read Full Article