"Good Bones" star Karen Laine and her daughter Mina Starsiak Hawk run their home rehabilitation business Two Chicks and a Hammer in Indianapolis, Ind. According to their website, it all started back in 2007 when Mina bought a house that was in dire need of renovation. What began as a pet project then grew into a hobby, which then grew into a full time business, renovating about 14 homes every year!
Prior to starting Two Chicks and a Hammer, Karen was a lawyer. In 2019, she also announced her retirement from the business she began with her daughter. However, this did not mean Karen was deciding to permanently sit back and kick her legs up. She still appears on "Good Bones" doing DIY projects, decided to go back to school, and began a non-profit in the Indianapolis, Ind. area to combat homelessness.
With all these projects under her tool belt, Karen has probably amassed a decent worth over the years, right? Along with a successful home-revamping business, she and her daughter are TV stars! Here's how much Karen is actually worth.
By most estimates, Karen is a millionaire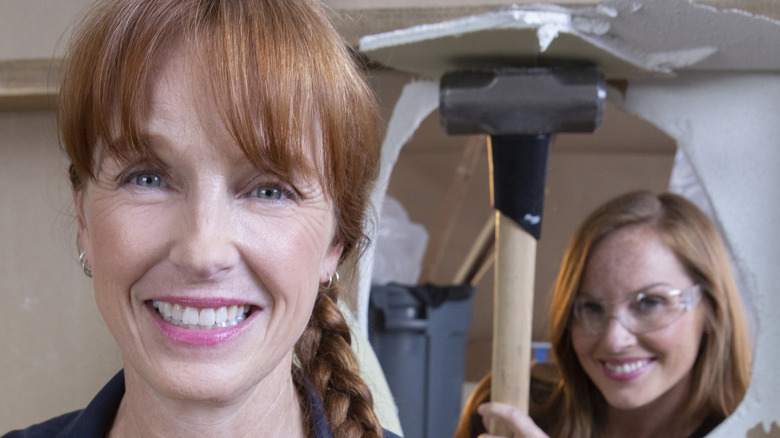 Estimates for Karen Laine's net worth vary, but are all around $1 million. News site Legit estimates her net worth to be $1.5 million, with a $200,000 annual salary. MuchFeed and Gossip Gist also back up the $1.5 million figure, while Reality Star Facts pegs it at $1 million.
Considering her long former career as a lawyer and the boosted visibility her business got from "Good Bones," it would make sense that her net worth would be a bit higher than other reality TV stars. Mama June of "Here Comes Honey Boo Boo" fame is worth just $50,000 according to TV Showcase. "Pawn Stars" appraiser Vic Flick — a very respected musician who actually wrote and performed the original theme song for "James Bond" — is worth just $500,000 despite his decades of high profile musical work, according to The Richest.
Now that Karen has stepped back from Two Chicks and a Hammer, she'll finally have some extra time to enjoy the fortune she's amassed over years and years of hard work. "We truly are rehabbing neighborhoods," Laine told IndyStar of her prior work. "If we were flipping, we wouldn't strip down to studs, install new electrical, new HVAC, new plumbing or whatever else needs to be done. This is rehab. These houses need a good 12-step program."
Source: Read Full Article