Fabulous and utterly over-the-top, Erika Jayne transformed "The Real Housewives of Beverly Hills" from the moment she made her grand entrance on the show in 2015. She has captivated audiences with her glamorous lifestyle and sharp wit. Yet, there was always a part of Erika that seemed mysterious. As she said for an entire season of "RHOBH": "I'm an enigma, wrapped in a riddle, and cash."
From an outsider's perspective, it seemed as if the dance-pop singer was living the high life. She lived in a gorgeous Beverly Hills mansion, was married to a wealthy attorney, and also cared for her policeman son. However, the grand illusion came crashing down in 2020 after she filed for a divorce from her husband, Tom Girardi, telling People that "this is not a step taken lightly or easily." Shortly thereafter, Page Six reported that the former couple was accused of staging a "sham" divorce so that they could hide funds that Thomas had allegedly embezzled from the families of Lion Air Flight 610's plane crash victims, per USA Today. But it seemed as if she was refuting those claims when Erika alleged that her husband had cheated on her in an Instagram post, which has since been deleted. 
However, one thing remains certain: While Erika's world seems to be collapsing, she is still a style icon. That doesn't mean that even she has never made a fashion faux pas, though. Here are some of her more memorable stylish missteps.
Erika Jayne has ramped up the sexy factor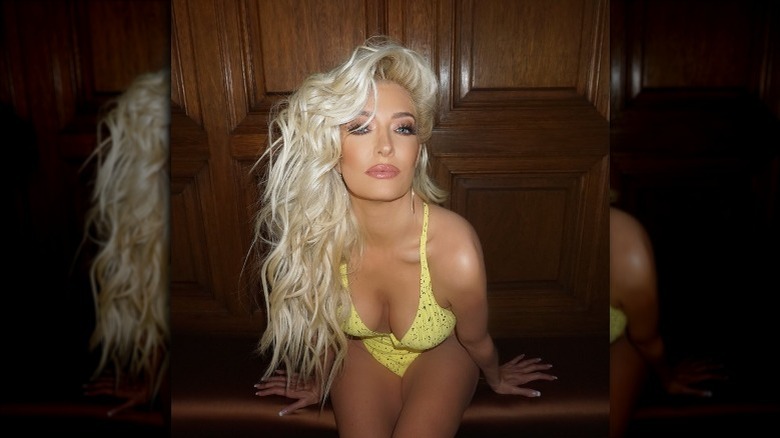 Erika Jayne Girardi is looking fit and fierce. Though she's always liked to show off her figure, ever since she announced that she was leaving Tom Girardi, she's amped up the sexy images on her Instagram account. In one of her more risque offerings, she wore fishnets and high heels and teased that she was thinking about using the image as her "online dating profile pic." According to Us Weekly, the "Real Housewives of Beverly Hills" star was not kidding about moving on with her life. A source told the publications that Erika was "totally serious about making a profile." The soon-to-be single Erika can certainly flaunt her body if she chooses to. However, some of her fans have been less than impressed by her sexier snaps.
In April, Erika posted a photo in a barely-there bikini and captioned it, "Doll parts." And while some followers gushed about her look, others thought that she had taken things too far. "She should just change her name to just Mess," one person said. Another wrote, "You are so you hot and so confident! That's why I don't understand the exaggerated photoshopping of your body. I'm not hating, you're stunning, just confused bc Lord knows you don't need all that." A third person taunted, "You think you're hot but you're not. Dress your age." Yikes! It seems as if fans have conflicting thoughts about her new look, as also reported by Page Six. Can't the girl catch a break already?
Erika Jayne and Lisa Rinna twin in the same outfits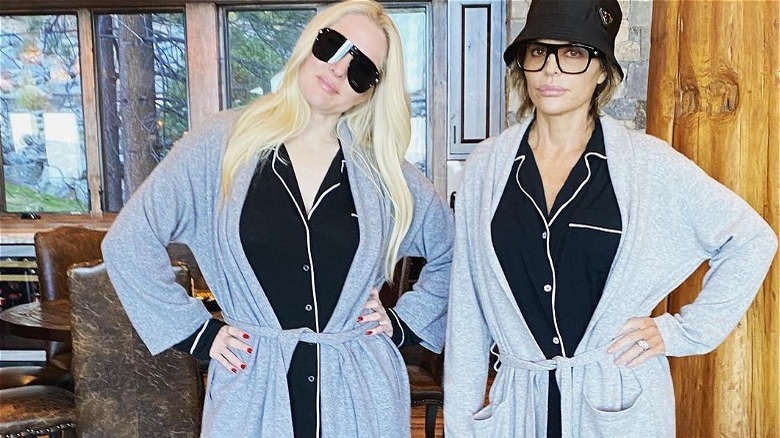 Erika Jayne is known for her impeccable fashion sense, and sometimes it seems to rub off on her other "Real Housewives of Beverly Hills" castmates. Just as it did the time she and Lisa Rinna wore matching sleepwear during a mini-vacay in Lake Tahoe, per Bravo. Lisa shared a snap of her and Erika in their gray pajamas on Instagram, captioning it, "Thelma and Louise take Tahoe." While the sleepwear seemed stylish and comfortable, there was a reason Lisa seemed a tad put-off in the photo. See, this wasn't the first time they reached for the same clothes.
Who can forget the time Erika hosted an astrology reading dinner, per Us Weekly, and wore a stunning pink blazer dress? Great was her surprise when she opened her door to find that Lisa Rinna was wearing the same outfit! The look on both of their faces spoke volumes. Afterward, Erika pulled herself together and managed. "We look amazing," before hugging Lisa. Adding to the hilarity of the situation, was the fact that they both had slicked back their hair into low, chic ponytails. And while matching outfits may be cute in your teens, their twinning wardrobes may have disturbed the fashion police. Still, a cute outfit is a cute outfit, and they obviously know how to pick 'em.
Erika Jayne and that geisha outfit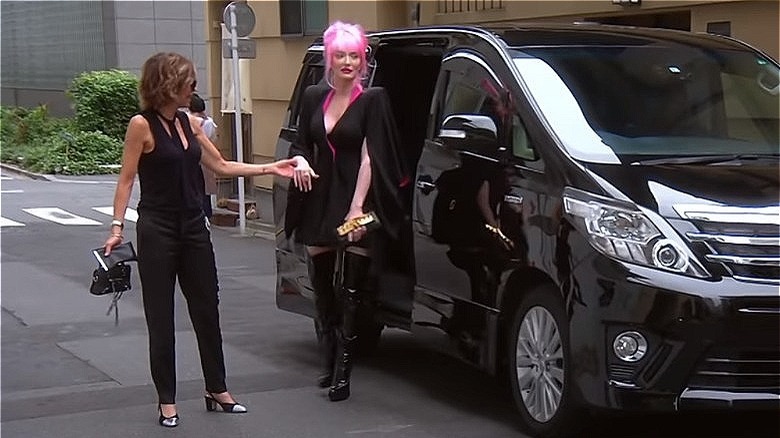 Bravo has come under fire for some of the antics of their stars from their "Real Housewives" franchise. Remember when Kenya Moore dressed up as a Native American "warrior princess" and wore a feathered headdress? According to USA Today, she was lambasted for cultural appropriation and had to make a public apology. Cinemablend noted that Bravo condemned Kenya's outfit, and later, quietly, edited out the offending costume. They cut out shots of Kenya and her costume, but her voice can still be heard. However, now the camera was turned to show the other castmates rather than Keyna. But was it enough to address the insensitive content shown?
However, before the Kenya episode, Erika Jayne herself had done the same thing. In a 2017 episode of "Real Housewives of Beverly Hills," Erika and Lisa Rinna were in Japan, per Bravo. However, as Femestella reports, the "Crazy" singer dressed up as a geisha while visiting a traditional restaurant. She rocked a pink wig, black thigh-high patent boots, and a geisha robe that evening. Lisa and Erika weren't impressed by the food at the eatery, but horrors, they were actually served by real geishas. Surprisingly, Erika wasn't called out for cultural appropriation for marginalizing traditional Japanese culture. However, now that Bravo has experienced the backlash for a similar situation, there can be no doubt that Erika won't be making the same mistake again!
Source: Read Full Article