On March 23, 1987, CBS began airing the soap opera The Bold and the Beautiful. One of the original characters, Brooke Logan Forrester, played by Katherine Kelly Lang, is still on the show today. Three decades have passed and Lang is still as popular as ever, drawing in viewers with her compelling nature and timeless beauty. The Emmy nominated actress has embodied the persona of the ultimate heroine, both on and off the screen. Lang took a moment to reflect on her successful career and longevity in the industry.
How it all began
Lang was born into a Hollywood showbiz family in 1961. Her father, Keith Wegeman, was the original "Jolly Green Giant" and her mother, Judith Lang, was a film and television actress. Her grandfather, Charles Lang, worked for Paramount Studios and was considered to be one of the greatest cinematographers of the Golden Age of film. A graduate of Beverly Hills High School, Lang was focused on riding horses and becoming an Olympic athlete. But as fate would have it, in 1979 she was cast as the sexy girlfriend opposite Patrick Swayze in Skatetown, U.S.A. This role led to numerous appearances on shows such as Happy Days, The Fall Guy, and Magnum P.I. The ultimate California girl, Lang appeared in all of the music videos made by The Beach Boys. In 1987, she got her big break and was hired to play Brooke Logan Forrester on The Bold and Beautiful. Thirty years later, and she is still working on the show, keeping fans engaged and entertained. To date, Lang has appeared in 5,046 episodes, with no signs of stopping any time soon.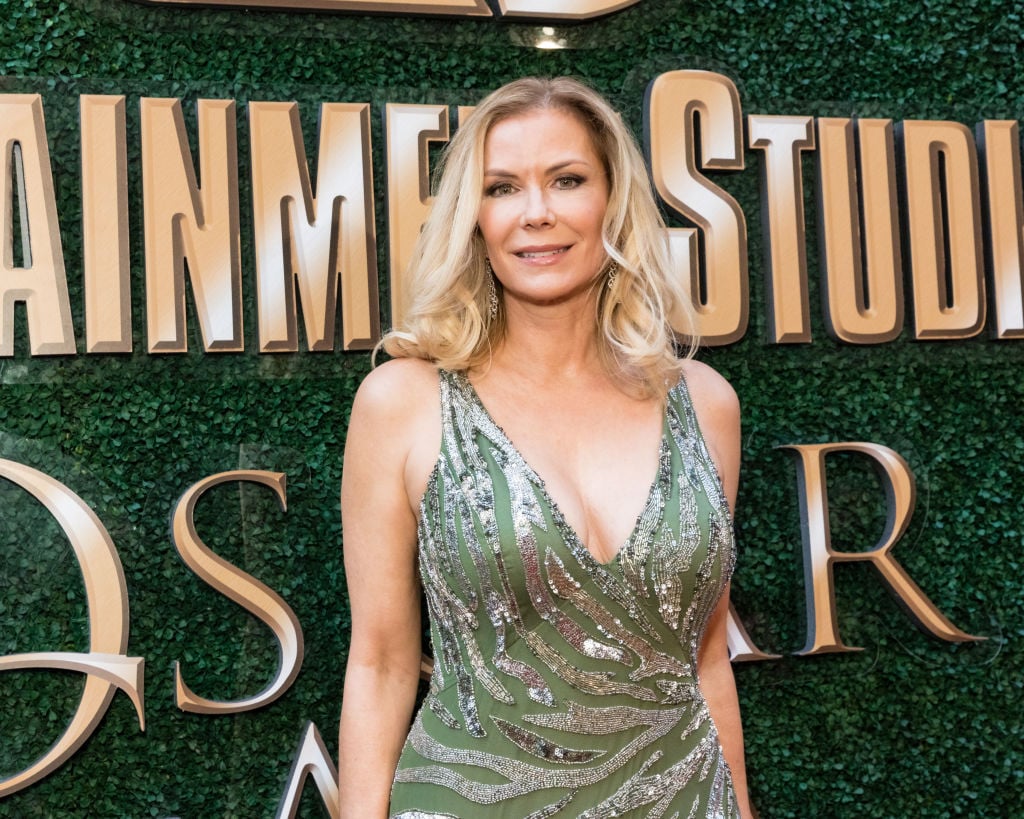 How long will Lang continue working on The Bold and the Beautiful?
The 58-year-old mother of three is dedicated to The Bold and the Beautiful and has no intention of going anywhere. She recently told Soap Opera Digest, "I don't want to leave. It's my home, it's my family. I've spent more than half my life there, so it would be weird without the show. I don't know how I'd survive without it!" Lang admits that her job can be difficult at times. Having a packed production schedule and a dialogue-heavy role on the show means she always has to be prepared and on her toes. Sometimes, she needs to memorize up to 90 pages of script in one day. Lang says she takes it one scene at a time, relying on her strong memory skills. She relates her brain to a muscle in her body that she needs to keep in shape to work at peak performance.
How Lang keeps herself looking fresh after 30 years on the show
Lang seems to have stopped the clock when it comes to aging. She is as gorgeous today as she was thirty years ago when she first appeared on the popular CBS soap opera. Lang revealed some of her ageless beauty secrets to Now to Love lifestyle magazine. After admitting to a little plastic surgery here and there over the years, Lang stated that she follows a strict skincare routine. She is very particular about what she uses, making sure to include heavy-duty creams, night serums, and under-eye formulas to keep her youthful glow. Lang also follows an organic clean diet, drinks plenty of water, and makes sure to get a good night's rest. Instagram followers were stunned to see her under a red glowing mask, so Lang explained that she uses a Deesse Pro LED mask to improve her skin's appearance. She is focused on her body's fitness level as well, training regularly for triathlons, which she loves to compete in.
Source: Read Full Article