For all of its unmatched success, the Marvel Cinematic Universe does have a chink in its armor: its villains. Thanos and a handful of other nemeses aside, many of the MCU bad guys have not been terribly memorable.
Now, Marvel fans are concerned that the alleged villain in Black Widow, the Taskmaster, may not pass muster. And worst of all, the biggest real-life villain around right now, the coronavirus, has ensured we have to wait a little longer to see Black Widow.
Villainy is not Marvel's strong suit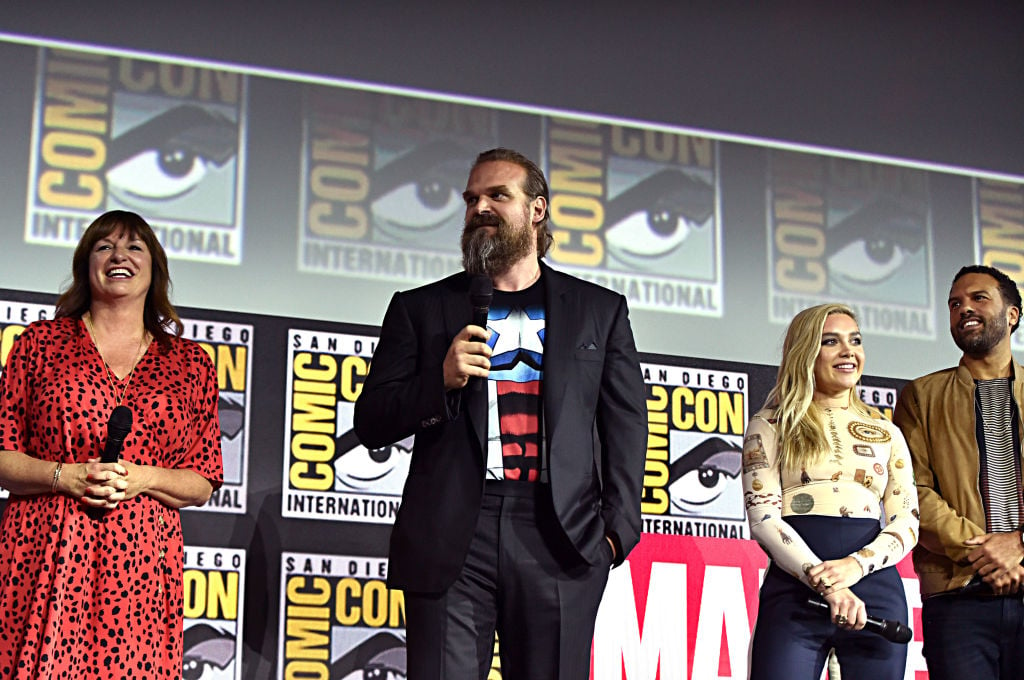 Particularly in its early years, Marvel's villains tended to be as uninteresting as the heroes are charismatic. There was some thought that as far back as the original Iron Man, the weak link was the villain, played by Jeff Bridges, an actor who is so well-loved and easygoing that villainy seems to push against his very grain. 
A ranking of MCU villains by Collider tends to put the early villains at the bottom of the pile: Whiplash in Iron Man 2, Malekith in Thor: The Dark World, and Laufey from Thor, just to name a few. A viewer could be forgiven if they could remember the actors names, but not the names of the villains they've played.
Lately, Marvel seems to have realized its weakness and stepped up its villains. At the top of Colliders' bad guy pile besides Thanos is Michael Keaton's Adrian Toomes in Spider-Man: Homecoming, Killmonger in Black Panther, and their pick for the best, Loki. Is it any small wonder that he's the only villain who gets his own TV show?
What about Taskmaster in Black Widow?
One interesting aspect about the Black Widow trailers is they don't make it clear exactly who the villain is. We never get a good look at him. Comic book fans know better than casual fans that the villain of the movie is The Taskmaster, but the trailers reveal very little about him. A Reddit discussion shows that fans think Marvel may backslide a bit with its bad guy.
"Judging by the previous marvel villains they probably die on their first appearance (Iron Monger, Whiplash, Yellow Jacket, Malekith)," the topic-starter says. Another fan counters, "They've been mostly keeping villains alive lately (with a handful of exceptions), so I think alive is more likely, but far from certain."
However, another fan says that "I am surprised that there are many people who want Taskmaster not to die. Outside of its appearance, Taskmaster is not a super-recognized villain or type A as Doctor Doom or Green Goblin in the comics. He is only a mercenary who worked for a good sum of money and part of this work led him to face several Avengers."
The coronavirus bites Black Widow
The most frustrating aspect of all this now is that fans will have to wait even longer to find out what happens to the Taskmaster. With the coronavirus spreading and most movie theaters being closed for at least a couple of months, Disney announced this week that Black Widow would indeed be delayed indefinitely, just as Mulan and New Mutants were.
While some big movies were given future dates, like No Time to Die going to November, and the ninth Fast & Furious movie being pushed back all the way to next year, Disney has not put any of its movies back on the schedule. There has been some clamor for Disney to put their movies on Disney+, since Frozen II went there early and The Rise of Skywalker was put up for sale early. However, Frozen II and Rise of Skywalker made their money back in their theatrical runs. A villain even smaller than Ant-Man has brought even the MCU down for now.
Source: Read Full Article