Peter Weber's season of The Bachelor didn't go as expected. At the end of his season, he got down on one knee for Hannah Ann Sluss — but their engagement didn't last long. We know Sluss called Weber out for still having feelings for Madison Prewett. And the "winner" of the season also revealed that Weber was hoping to find closure with his ex and Bachelorette star Hannah Brown during their engagement.
So, does Sluss harbor any resentment for Brown? It doesn't appear so. She recently spoke with Bachelor star Nick Viall on his podcast, Viall Files, about how she feels about Brown now. And it seems she's rooting for Brown to get back together with her ex Tyler Cameron.
Hannah Ann Sluss thinks Peter Weber was still in love with Hannah Brown
https://www.instagram.com/p/B9QJTEAALnJ/
Hindsight is 20/20, and after watching back Weber's Bachelor season, Sluss is able to identify some serious red flags. She's said before that she grew tired of Weber's wishy-washy nature, as she felt he was never truly committed to each other. And during the After the Finale Rose ceremony, she told the public that Weber asked her if he could contact Brown to get the proper "closure" he needed.
"So really, looking back at it, our engagement involved three women," Sluss noted. "Me. You still being in love with Madison and proposing to me. And you needing closure with Hannah Brown."
As of January 2020, Sluss told the Bachelor Happy Hour podcast that she thought Weber was still in love with Brown as well. "I think he had unresolved issues," Sluss said. "Here I am, I don't need to be contacting two exes about having closure."
Rumors are swirling that Brown and Tyler Cameron are back together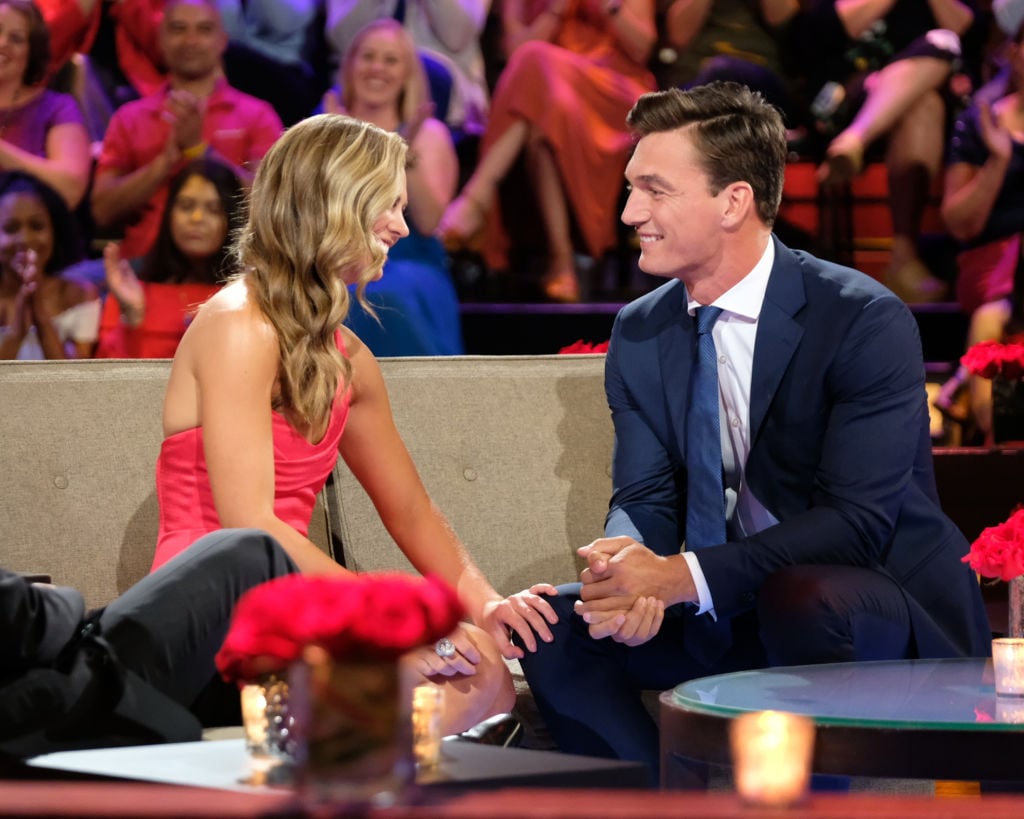 We know Brown chose Jed Wyatt at the end of her Bachelorette season, but fans wished she chose Cameron. Wyatt and Brown are no longer together after it was revealed that Wyatt had a secret girlfriend at home while filming. And while Brown and Cameron seemed to restart their relationship post-Bachelorette, season, that halted after Cameron was seen with Gigi Hadid.
Now, however, the tables have turned. Brown and Cameron are quarantined together with their friends and sharing videos via TikTok of their experience. And there's plenty of evidence to suggest that they're reigniting their romance.
Page Six notes some of their videos include playful games and challenges between the exes. And with each new video fuels further speculation, as there's plenty of giggling, touching, and flirting throughout. In one TikTok, they even filmed themselves playing spin the bottle — and Cameron jokingly looks hopeful that he'll get to smooch Brown.
Sluss is rooting for Brown and Cameron's romance
We know Sluss is now happily living her life without Weber, and it seems she has no ill feelings toward Brown. While talking to Viall, she also noted that she's "rooting for" Brown and Cameron's romance, as there's clearly something brewing beneath the surface.
"I would definitely root for them to get back together," Sluss commented. "Especially being in my position of an engagement being broken off. You know, Hannah Brown had an engagement that was broken off. I feel for her more in a sense of just that public breakup. … I totally kind of feel where she's coming from. … So, I would love for her to find love, and if that could be with Tyler, they would just be the hottest couple."
Sluss also mentioned the "Quarantine Crew" and how Brown and Cameron look like they're having "so much fine." "I'm sure everyone would go crazy if they actually got back together."
We're anxiously awaiting the day Brown and Cameron announce they're giving romance another shot. And we know Sluss is in their corner, too!
Check out Showbiz Cheat Sheet on Facebook!
Source: Read Full Article