The crime thriller "The Blacklist" has been running on NBC since the fall of 2013, and in that time, it has gained a lot of fans of the twists and turns the storyline takes. "The Blacklist" centers on a former Naval Intelligence officer named Raymond "Red" Reddington, who had gone missing 20 years earlier when he became one of the FBI's Ten Most Wanted Fugitives.
He turns himself in and offers to help apprehend the criminals and terrorists he spent the last two decades tracking, according to IMDb. There's just one catch — he will only work with a rookie profiler for the FBI named Elizabeth Keen. There's plenty of fodder in this storyline to keep "The Blacklist" going for many, many years.
The real-life partners of the cast of "The Blacklist" have had to put up with the crazy schedules of their spouses and partners throughout the show's nine seasons to date. Let's take a look at who those people are in the lives of current cast members James Spader, Megan Boone, Hisham Tawfiq, Harry Lennix, and Ryan Eggold.
James Spader's partner, Leslie Stefanson, is a sculptor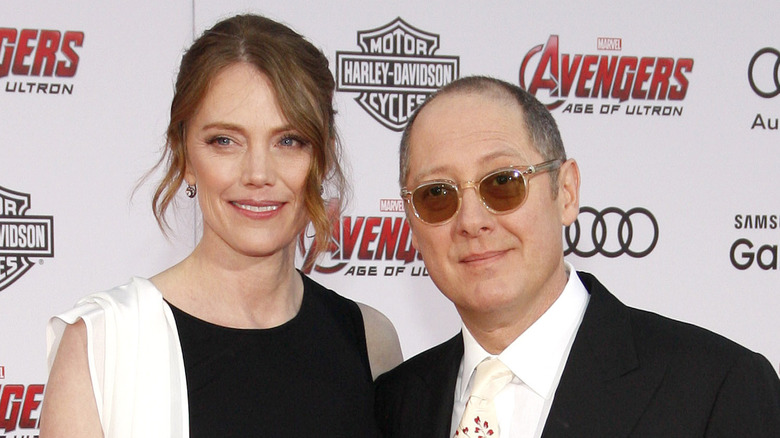 James Spader absolutely nails his role as the Naval Intelligence officer turned criminal. He combines just the right amount of devilishness with the intelligence necessary to be, well, both an intelligence officer and a criminal who evades capture for two decades.
Spader met his first wife, Victoria Kheel, in New York City in the 1980s when she was working at a yoga studio. They married in 1987 and worked together on "Sex, Lies, and Videotape" in 1989. Kheel was the set decorator on the film, per IMDb. The couple had two sons, Sebastian (1989) and Elijah (1992). Sebastian is a film producer, while Elijah works in the sound department on "The Blacklist," according to IMDb. Spader and Kheel divorced in 2004, per Country Living.
In 2002, Spader started dating actor and artist Leslie Stefanson. They met while working on the film "Alien Hunter." Soon after, Stefanson retired from acting to focus on sculpting, according to her official website. In 2008, Spader and Stefanson welcomed their son, Nathaniel. The couple lives in a carriage house in Greenwich Village, Rolling Stone reported.
Megan Boone's partner, Dan Estabrook, is also an artist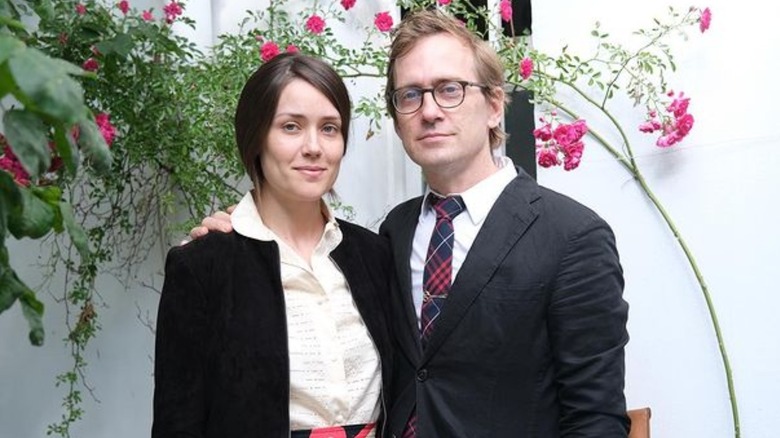 Megan Boone plays the rookie FBI profiler whom James Spader's Red Reddington specifically requests to work with. That's all we're going to say about that, just in case you haven't gotten around to watching the previous seasons of "The Blacklist."
Boone's partner is an artist and production designer named Dan Estabrook. He started studying art as a child in Boston and attended Harvard for undergrad and got his MFA from the University of Illinois Urbana-Champaign, according to his website.
In late 2015, E! News reported that Boone was pregnant with her first child. In early 2016, Boone appeared on "Live with Kelly and Michael" and revealed that she was engaged and expecting a baby girl. Boone and Estabrook welcomed their daughter, Caroline, on April 15, 2016, and Boone announced her daughter's birth on Instagram. A few days later, Boone shared another photo of her newborn on Instagram, writing that she and Estabrook were "blessed."
Hisham Tawfiq found love with an antiracism instructor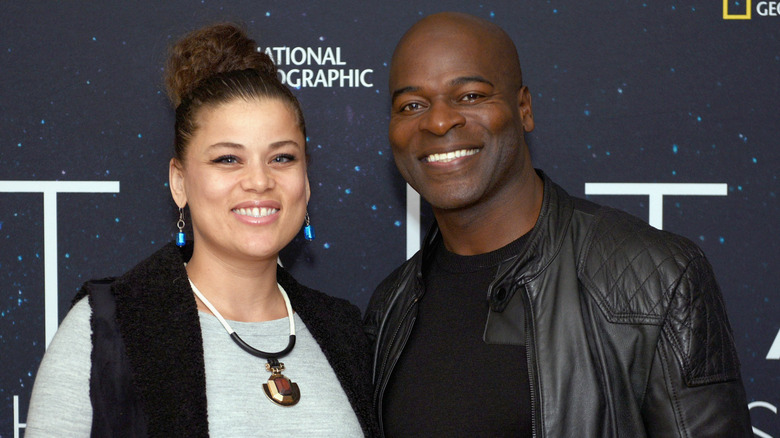 On "The Blacklist," Hisham Tawfiq plays Dembe Zuma, part of the security team and confidante of Spader's Red Reddington. Tawfiq had an interesting path to becoming an actor. After an injury in high school sidelined a football career, he took African and modern dance classes and wound up traveling in Europe with a dance company, the New York Daily News reported.
Tawfiq enlisted in the Marines and deployed during Operation Desert Storm, per his official Emmys bio. He also worked as a corrections officer at the Sing Sing prison in New York state, and he was a firefighter with the New York City Fire Department for two decades. "Acting was always the passion," he told the New York Daily News. "But I had bills to pay. Acting was never a hobby. I was always into the arts in some form."
In July 2016, Tawfiq married Spirit Trickey. She is an alumna of the University of Arkansas at Little Rock and the Clinton School of Public Service, per her website. She's worked as a social justice educator, in community relations, and as a public speaker. Sprit's mother, Minnijean Brown was one of the "Little Rock Nine" one of the first nine Black students to desegregate Little Rock Central High School in 1957. She founded Roots of the Spirit to educate and speak "out against racism in various ways."
Harry Lennix found love with a high-powered business executive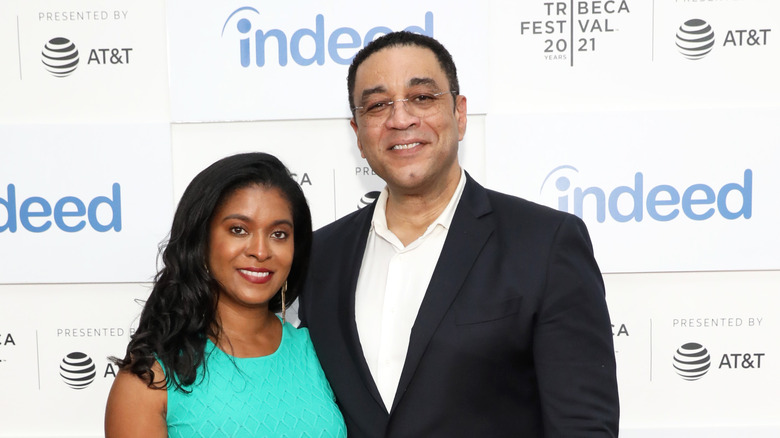 Harry Lennix plays Harry Cooper, the Assistant Director of the FBI Counterterrorism Division, on "The Blacklist." 
Lennix met his future wife, Djena Nichole Graves, through friends after she attended the August Wilson play "Radio Golf" on Broadway, which Lennix was starring in during the summer of 2007. The play marked Lennix's Broadway debut, per The New York Times.
The couple married in 2009 at the Barton Creek Resort & Spa in Austin, Texas. Graves grew up in Houston and got her BA at Florida A&M University and her MBA at New York University. She is a business executive in investment management in New York City, per the couple's wedding announcement in the New York Times. Graves is on the board of the support group for sexually exploited girls and women Girls Education and Mentoring Services and the charter school the Harlem Success Academy.
Ryan Eggold admitted he's not good at managing his love life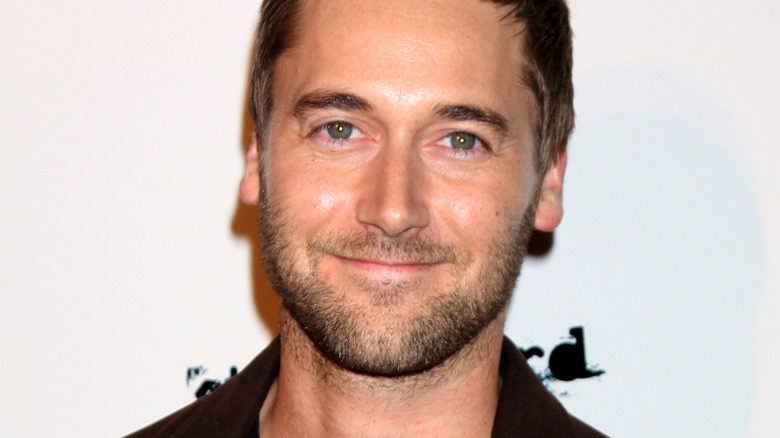 Actor Ryan Eggold has had a lot of success in television series. He was cast as a teacher in the reboot of "90210," he's currently the lead on "New Amsterdam," and from 2013 to 2017 he played Tom Keen on "The Blacklist," per IMDb. Keen was the husband of Megan Boone's character, Elizabeth Keen. His character took so many twists and turns — well, you really should watch the show to find out what happened.
Eggold keeps his private life private and has admitted he's not great at picking up women. In a 2014 interview with The Daily Telegraph, he said, "I am an old man. I go for the quiet. I wouldn't say I handle attention well, I'd say I stumble over pick-up lines poorly. I'm not good at any of that."
In 2008, Eggold was spotted out and about frequently with "Twilight" actor Ashley Greene, per The Cinemaholic. Then in 2009, Eggold started dating "The Haunting of Molly Hartley" actor Haley Bennet. The two reportedly dated from 2009 to 2011. Since then, there's been no new news about Eggold's love life.
Source: Read Full Article