On July 21, the first season of Netflix's newest dating show, "Sexy Beasts," premiered. A melding of "The Dating Game" and "The Masked Singer," narrated by comedian Rob Delaney, the first season of "Sexy Beasts" is made up of six, 30-minute episodes that feature one contestant and three potential suitors. As detailed in Wired, the four contestants go on two rounds of dates, with one of the suitors being eliminated between the two rounds, and eventually, the "picker" will choose the person with whom they would like to pursue a relationship. There's a twist, though. The contestants' faces are hidden behind masks or underneath prosthetics and are only revealed at the end of the episode (if the "picker" or chosen) or upon elimination.
The season finale of "Sexy Beasts" featured Kelechi, "a pharmacy student from Knoxville," Newsweek reported, who dressed up as a rooster. His potential suitors included Lilly, "a model from London," who was a witch; Martha, "a sales executive from Southampton, England," who portrayed a reindeer, and Cassie, "a Disney fan looking for her Prince Charming," who dressed like a frog.
In the end, Kelechi, who lives in the United States, picked Martha as his potential love match, even though she lives on the other side of the Atlantic Ocean. So how has their relationship turned out, and what exactly is the truth about the couple? Keep scrolling to find out.
Kelechi and Martha of Sexy Beasts seem more career-driven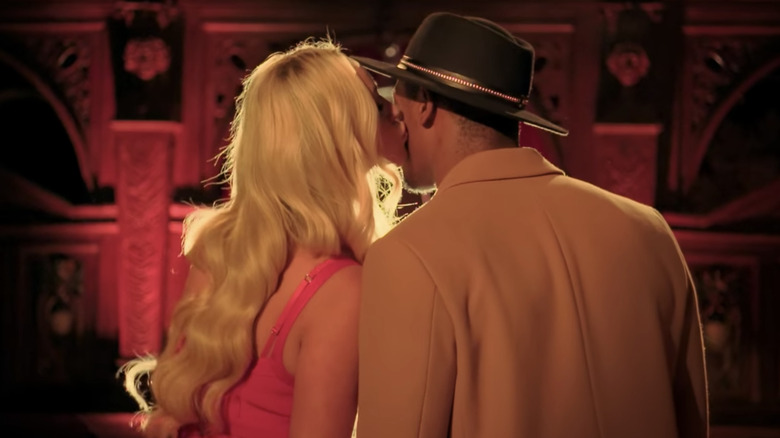 For the sixth and final episode of "Sexy Beasts," Kelechi chose to potentially start a relationship with Martha, a sales executive from Southampton, England. While the two seemed to hit it off on the show, the distance between them (Kelechi currently lives in Knoxville, Tennessee), seems to have kept them apart for now. Though the two are still following one another on Instagram, as of this writing (per Decider), it doesn't seem as if they are pursuing a romantic relationship with one another.
Both Kelechi and Martha appear to have up-and-coming Instagram accounts, with Kelechi having around 3,600 followers and Martha boasting around 2,800. And although their time on "Sexy Beasts" does not appear to be documented on either contestants' account, they do seem to be utilizing the social media app to expand their brands. Kelechi is promoting his fitness brand, posting photos of himself that show off his figure and his apparent love of travel. Martha, on the other hand, is using her account to support her TikTok, which has more than 35,000 followers and appears to be focused on fashion and makeup looks. 
And though the two don't appear to be actively talking through social media, Kelechi has liked a few of Martha's most recent Instagram posts, so they're likely still keeping in touch. Here's hoping they both get their happily ever after.
Source: Read Full Article