It's a girl! Carson Daly of the Today Show and The Voice and wife Siri welcomed their newest addition to the family on March 26. Calling in to the NBC morning news program, Daly gave some details on his infant daughter's name and what it was like bringing a baby into the world amidst the coronavirus crisis.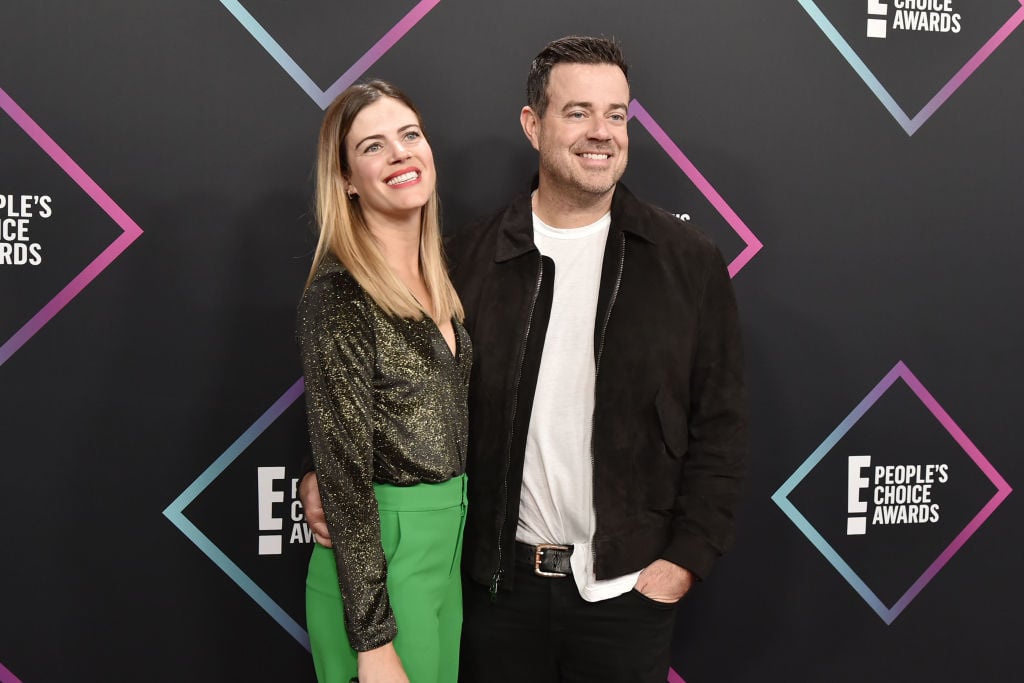 Daly's Insta announcement
Joining siblings London Rose, 5 1/2, Etta Jones, 7 1/2, and Jackson James, 11, Goldie Patricia Daly was born at 4:08 p.m. weighing 8.2 pounds and measuring 20 inches long. In his Instagram announcement, Daly paid tribute to the countless members of the medical staff that are working tirelessly through the country's pandemic.
"The Daly family wants to send a special shout out to the incredibly brave & selfless medical staff at our hospital in New York and also the many courageous people on the front lines of this dreadful virus," he wrote, alongside a pic of himself and Siri in masks, with baby Goldie (whom they call 'Go Go') in her mom's arms.
"We thank God not only for the safe birth of our daughter, but for their tireless work attending to so many in need," Daly shared. "It is a bittersweet event for us as we are extremely grateful, but also mindful of this unparalleled time in our history. We appreciate your well wishes and ask that you join us in praying for the many suffering around the world. God Bless you all."
Their pot of 'Goldie'
In a video call on the Today Show, Daly updated his pals and co-anchors Savannah Guthrie, Hoda Kotb, Craig Melvin, and Al Roker on the special event and explained why they chose the colorful moniker for their baby girl, which they thought of on St. Patrick's Day.
"We had a shortlist of names that we liked but nothing was sitting its neck out. And I thought about it and I said, 'You know, this is our fourth kid. She seems like a pot of gold at the end of our family rainbow," he revealed, as reported by People. "I told Siri, 'What do you think about Goldie Patricia?' And that was it. It was just one of those things, we knew."
Goldie's middle name, Patricia, is in honor of Daly's mother, who passed away in September 2017 due to a heart attack. "It would have been my mom's birthday tomorrow, so that worked out to be quite nice," he added.
Delivering amidst dire times
During Daly's call with his colleagues, he praised his wife for her courage and tenacity in having to deliver their child under such stressful and unprecedented times.
"I wake up today just really, profoundly moved by two things on my mind," he said, according to Today.com. "Number one is the strength of my wife. I mean, watching her over the last 48 hours — not to mention during this pregnancy — but being nine months pregnant at this time, you can imagine the extra anxiety that it brought."
With many expectant parents having to drastically change birthing plans and some moms having to face delivery alone due to the current pandemic, Daly was grateful he was able to be there when Goldie entered the world.
"I dropped (Siri) off at the hospital, because the hospitals in and around New York, as you can imagine, have new guidelines," he shared. "She went alone on Wednesday night. I could only join her for the birth, and then I had to leave again."
The experience made the father of four marvel at his wife's resilience and bravery. "Her heroism … she's a superstar, she's a superhero. I wake up enamored by her."
Congratulations to the Daly family!
Source: Read Full Article