When an actor and a reality star get together, their dynamic can be hard to predict. For Sarah Hyland and her fiancé, Bachelor Nation's Wells Adams, fans may be surprised to learn how they balance one another out. Here's a look at how they get along, as well as how this is very different from Hyland's past relationships.
Sarah Hyland and Wells Adams are engaged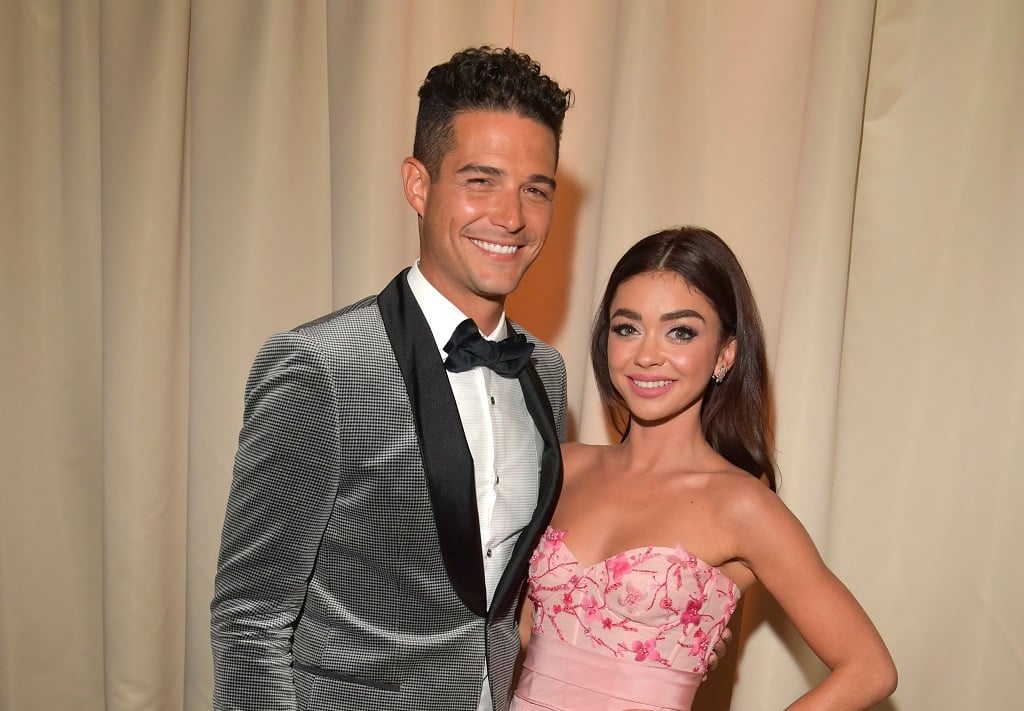 Hyland is best known for starring as Haley Dunphy in the long-running sitcom Modern Family. She'a also appeared in shows such as Hot in Cleveland and Veronica Mars. And while her significant other is also known for TV, they come from two different realms.
Adams, a DJ, first appeared in season 12 of The Bachelorette in 2016. After being eliminated, he remained apart of the franchise, as a contestant in season 3 of Bachelor in Paradise. Adams later returned as a bartender in seasons 4, 5, and 6 of Bachelor in Paradise.
She opened up about their relationship in Cosmopolitan
So how did Hyland and Adams meet? Online, of course. She tweeted about him, he slid into her DMs, and the rest was history. Things progressed from FaceTimes to actual dates, and he was there for her while she recovered from her second kidney transplant in 2017.
Their relationship got serious fast, with Hyland telling Cosmopolitan, "We were talking about what kinds of weddings we wanted four days after we made things official." She added, "I hate that typical cliché of 'when you know, you know,' but it's so f*cking true. At least it was for me."
Hyland on being 'the child' in their relationship
In the couples challenge video above, both agree that Adams is more patient and Hyland is more stubborn. But this could have something to do with the prescription she takes for her kidney dysplasia. "I have to take a step back and be like, 'Is this actually upsetting you? Or is this, like, the medication?,'" she said.
But as it turns out, they really get into big arguments. Hyland describes Adams as "a communicator," saying, "This is the first time I've been in a relationship where I'm like, 'How am I the child in the relationship?' I've always been the adult."
Who did she date in the past?
Who is Hyland referring to? The actor has two famous ex-boyfriends. Most recent is Dominic Sherwood, her co-star from the 2014 film Vampire Academy. They began dating the next year, and split sometime in 2017. During their relationship, he guest-starred in an episode of Modern Family. Their appears to be no ill will between Hyland and Sherwood in 2020.
But it was her relationship prior to that one that is more well known. Hyland was linked to Matt Prokop, who she met when they starred in the Disney Channel movie Geek Charming together, for several years. Their relationship ended poorly: After splitting in 2014, Hyland obtained a domestic violence restraining order against her ex.
Clearly, this takes things beyond just being the "adult" in a relationship. It's comforting to know that Hyland is safe from that kind of behavior, as her relationship with Adams appears to be as healthy as can be.
Source: Read Full Article