Chadstone Shopping Centre has been named by anti-lockdown protesters as the location for their second planned rally this weekend.
Several dozen protesters came together outside the Coles supermarket singing John Farnham's song You're the Voice but then broke up and dispersed.
Chadstone security are now turning people away from the entrance of the shopping centre.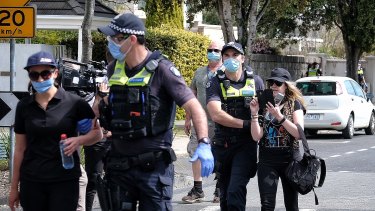 Police apprehended at least six people on Saturday.Credit:Luis Enrique Ascui
A police helicopter is hovering over the shopping centre in Melbourne's south-east.
Organisers released the location on encrypted online chat groups 30 minutes prior to evade police detection.
It comes after 16 people were arrested and 21 fines were issued to protesters who gathered at Elsternwick Park in the city's south-east after their plans to rally in the city failed on Saturday morning.
Police chased about 100 anti-lockdown protesters in the suburban park as the crowd fled towards Elwood. Police, including several on horses, followed them and arrested a number.
Organisers kept the location of today's protest secret until just before the starting time to try evade police.
Last Sunday around 250 protestors gathered at Queen Victoria Market resulting in confrontational clashes with police amidst fruit and vegetable stalls.
Police arrested 74 people and handed out more than $500,000 worth of fines to hundreds of people.
This weekend marks the third in a row of organised anti-lockdown protests around Melbourne.
"We are frustrated that these people continue to put the lives of Victorians at risk," a Victoria Police spokeswoman said.
"Police are playing an important role by enforcing the directions of the Chief Health Officer so we can limit the spread of coronavirus.
"While we know the majority of the community are doing the right thing, the behaviour of these selfish few who choose to blatantly ignore the directions will not be tolerated.
"We will continue to take the same swift and firm action against those who choose to blatantly ignore the directions, and our investigations will continue."
More to come.
Most Viewed in National
Source: Read Full Article