More than 700 Frankston Hospital staff are in isolation after potential exposure to coronavirus following a major outbreak that has led to more than 50 staff being infected so far.
The huge number of furloughed staff has fuelled concerns about patient care and medical services in the hospital and comes a day after the Andrews government conceded about "70 to 80 per cent" of healthcare workers infected with COVID-19 during the state's second wave of infections caught it at work.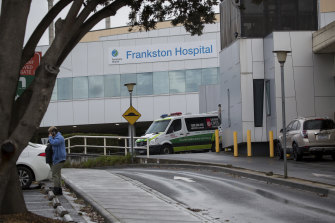 New data is showing high risk locations such as Peninsula Health's Frankston Hospital which has 54 infections among staff.Credit:Paul Jeffers
Multiple health sources have told The Age about 750 Frankston Hospital staff have been sidelined, while at least 54 have tested positive to the virus in one of the biggest coronavirus outbreaks among doctors and nurses in Victoria to date.
Some speciality surgery units at Frankston Hospital have been left devoid of doctors and nurses, with patients needing assessment or surgery transferred to the The Alfred hospital or Monash Health services.
"It's obviously extremely concerning," Australian Medical Association Victorian president Julian Rait said. "There are anxieties around the shortage of staff and the capacity of the hospital to provide its usual services."
Professor Rait estimated about 3000 people worked at Frankston Hospital.
The quarantined healthcare workers are not expected to return to the hospital until next week at the earliest, while others are not expected to return for another two weeks.
Staff who have spoken to The Age on the condition of anonymity have raised concerns about a shortage of infectious disease physicians with expertise to deal with the growing number of critically ill patients presenting to the hospital with the coronavirus.
Other workers describe a lack of staff training for the use of personal protective equipment and rationing of the highly protective N95 face masks early on in the pandemic.
"There was a sense that this big wave was coming towards us and we weren't as prepared as we should have been," one hospital worker said.
Professor Rait said medical staff from Monash Health were helping to fill vacancies. A number of patients have also been transferred to Cabrini Health services.
People requiring urgent care can still attend the emergency department.
Only ambulances with code one emergencies where a person is time-critical were being taken to the hospital's emergency room with all other ambulances being diverted to Dandenong Hospital, Professor Rait said.
An email sent out to all staff at Frankston Hospital on Tuesday evening, seen by The Age, said wards in the hospital including the surgical short stay ward and an acute medical ward providing care to gastroenterology patients, were still undergoing deep cleaning.
More than 40 nursing staff have been infected along with doctors and allied health workers.
The source of the outbreak is still under investigation. Professor Rait suspects misuse of protective equipment such as face masks, or a breach of the hospital's infectious disease protocols my have escalated the spread of the virus. "For it to spread so far and so quickly among staff, there must have been some kind of breakdown in protocol," he said
The hospital cluster followed another outbreak at the Peninsula Health rehabilitation centre in Frankston, which treats vulnerable and immunocompromised patients.
Eighteen patients and 14 staff were infected and Victorian health authorities are now investigating whether the two Peninsula Health clusters were linked.
The state government analysis of healthcare worker infections has validated the concerns of medical groups that have long disputed government suggestions, including by Health Minister Jenny Mikakos, that only 10 to 15 per cent of COVID-19 cases among healthcare workers were acquired on the job.
But the government response to the findings of the analysis has also prompted frustration among medical bodies who argue authorities are not doing enough.
The Australian Medical Association and other key medical groups say a trial at the Northern Hospital, which aims to ensure doctors and nurses have properly-fitted medical masks, should be immediately rolled-out across the state.
They are demanding that "fit testing" of face masks become mandatory for health workers after a state government analysis showed up to 80 per cent of the almost 2700 Victorian healthcare staff who tested positive for COVID-19 caught it at work.
Fit testing is mandatory for workers dealing with asbestos and silica, but not always for hospitals dealing with COVID-19, leaving doctors and nurses vulnerable to the deadly virus.
"Why you need a trial to work out if people should be fit tested is beyond comprehension," AMA national president Omar Khorshid said.
"We know this works and it should be immediately rolled out to all front-line healthcare workers across the country," he said. "Will it take the deaths of healthcare workers to convince them?"
Peninsula Health has been contacted for comment.
Get our Morning & Evening Edition newsletters
The most important news, analysis and insights delivered to your inbox at the start and end of each day. Sign up here.
Most Viewed in National
Source: Read Full Article